The NVIDIA GeForce RTX 4070 is the card that you wished had launched a couple of months ago. It brings all the goodness of the NVIDIA Ada Lovelace architecture which brings support for several good features such as DLSS 3 and AV1 Hardware decoding support, things that gamers and content creators alike would really appreciate. The price of the RTX 4070 Founders Edition in India is INR 62,000 which is decently pricey and brings it to the league of the RTX 3080 and is decently cheaper than the RTX 4070 Ti. 
The RTX 4070, given its pricing, is geared towards the higher end of the mid-range segment which is where you find cards capable of 1440p gaming with all the bells and whistles. We're talking RTX, NVIDIA hairworks, faceworks and whatever else works. The latter two are not NVIDIA features, please don't write news pieces about them. 
NVIDIA GeForce RTX 4070 Specs
The RTX 4070 is built on NVIDIA's Ada Lovelace architecture, which is the successor to the Ampere architecture used in the previous generation of RTX 30-series cards. Ada Lovelace introduces several new features and improvements, such as better ray tracing capabilities, faster rendering, and improved power efficiency. The improved power efficiency is due to the switch from Samsung 8nm (RTX 30-series) to the TSMC 4N node which is actually a 5nm process node that's about 6 per cent smaller than TSMC's initial 5nm process.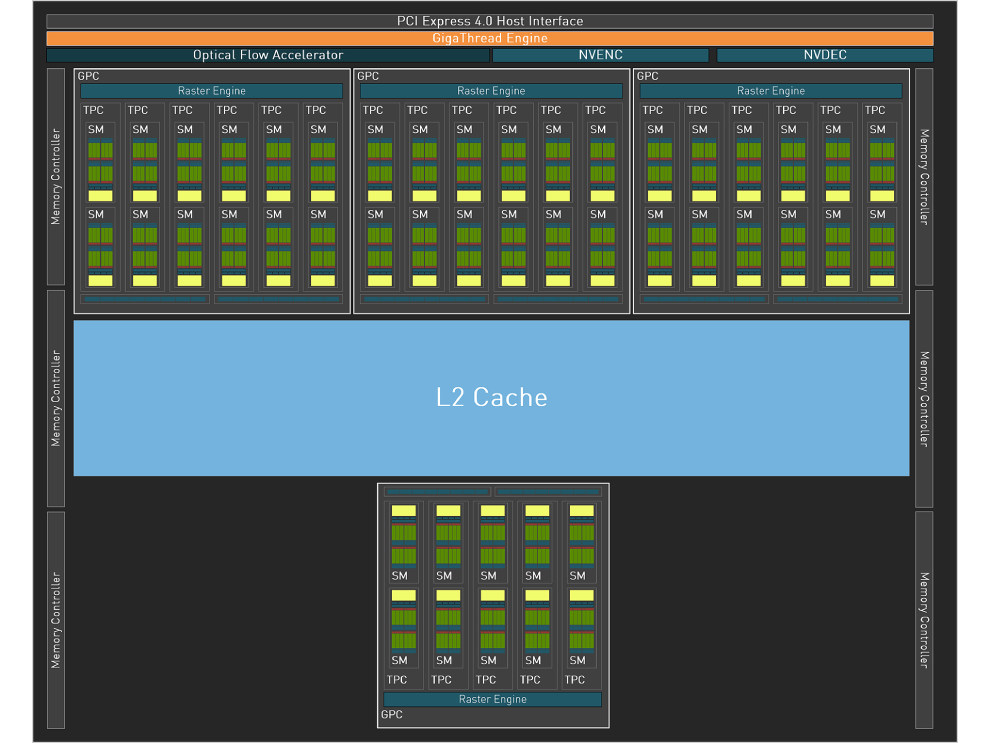 The GPU configuration of the RTX 4070 is divided into four Graphics Processing Clusters (GPCs). Each GPC serves as a high-level organisational unit which includes Streaming Multiprocessors (SMs), Texture Processing Clusters (TPCs), and Raster Operating Units (ROPs). The NVIDIA GeForce RTX 4070 has 23 TPCs, each containing two SMs. In total, there are 46 SMs on the GPU, which are responsible for executing shader programs and handling various graphics processing tasks. Each SM features 128 CUDA Cores, summing up to 5,888 CUDA Cores across the entire GPU.
In addition to the CUDA Cores, the RTX 4070 is equipped with 184 Tensor Cores, 4 per SM, which are specialised hardware units designed to accelerate AI-based computations. Tensor Cores enable the GPU to perform complex matrix operations at high speeds, making them particularly useful for deep learning applications. The RTX 4070 also includes 46 RT Cores, one per SM, which are dedicated ray tracing hardware units that significantly improve the rendering of realistic lighting, shadows, and reflections. With these dedicated RT Cores, the GPU can perform ray tracing tasks much faster than previous-generation GPUs.

The GPU has 184 Texture Units, which are responsible for handling texture mapping tasks, such as applying textures to 3D models and filtering texture data. Furthermore, the RTX 4070 features 64 ROP Units, which handle the final stage of rendering, including anti-aliasing and outputting pixel data to the frame buffer.
Another major change with Ada Lovelace is the massive increase in L2 cache. The card comes with a sizable 36 MB of L2 cache, which reduces memory access latency and improves overall performance. Since most of the calculations are going to be closer to the GPU and will not be sent to the much slower GDDR6X memory, the larger L2 cache really helps with gaming workloads and AI applications really love fast memory. So the DLSS features such as Frame Generation benefit a lot because of this. The RTX 4070 is equipped with 12 GB of GDDR6X memory, which operates on a 192-bit memory bus. This high-speed memory allows the GPU to handle large textures, high-resolution displays, and complex scenes without performance degradation. The narrower bus width is fine since the L2 cache is large.
Lastly, the RTX 4070 supports AV1 hardware encoding, a next-generation video codec that offers improved compression efficiency and video quality compared to previous codecs. This hardware support ensures that the GPU can efficiently encode and decode AV1 video streams, providing better video playback and streaming capabilities. OBS has already incorporated support for AV1 codecs so folks who have the beta version can start streaming to YouTube using the AV1 codec. Also, NVIDIA recently relaxed the limits on simultaneous encode streams so creators can now have 5 concurrent streams on most mainstream graphics cards. 
NVIDIA GeForce RTX 4070 Build Quality
The Founders Edition RTX 4070 follows the same design principles as the other RTX 40 series graphics cards. The main PCB is quite compact and takes up very little volume and there's a massive metal heatsink fin array spanning the entirety of the body. Like the RTX 3080 and the larger RTX 4080 and 4090, the 4070 also has a twin fan assembly which is configured to optimise maximum airflow through the fin assembly. There's little to say about the build quality. What is interesting though is that the RTX 4070 is a much smaller card than the other RTX 40 series cards and almost feels like a 60-class card.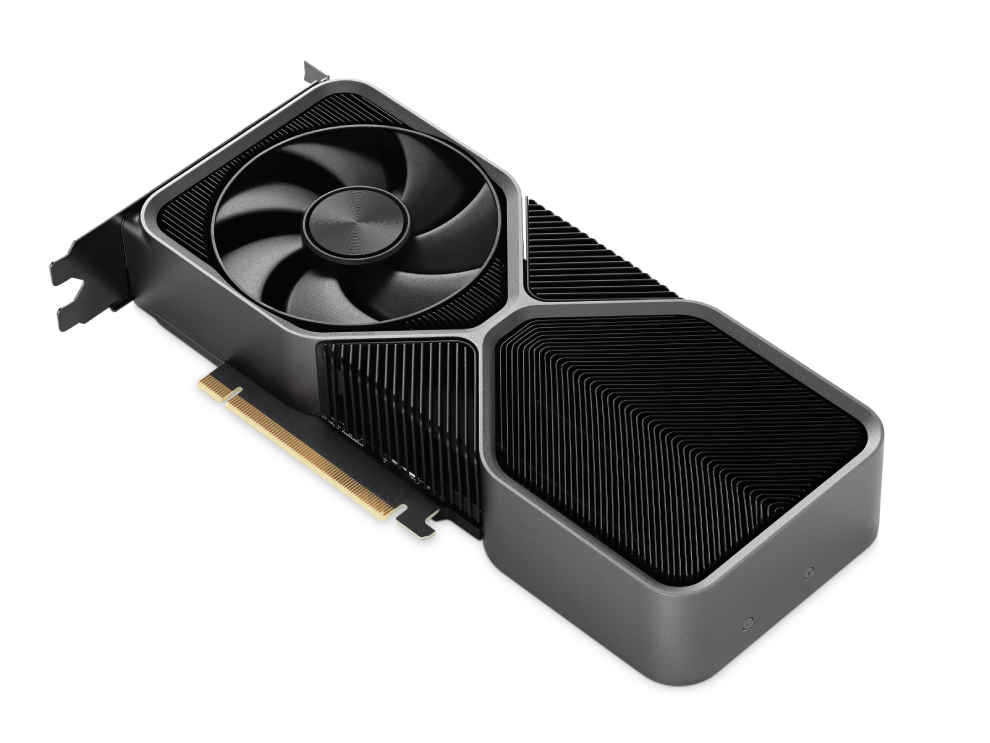 NVIDIA GeForce RTX 4070 Performance
The card is being compared against only the recently re-tested graphics cards and not any of the older graphics cards that are no longer available with us. Here's the rig it was tested on.
TEST RIG

Processor – AMD Ryzen 9 7950X

CPU Cooler – Corsair H115i RGB PLATINUM

Motherboard – ASUS ROG CROSSHAIR X670E HERO

RAM – 2x 16 GB Kingston Renegade FURY 6000 MT/s (Set to 5200 MT/s)

SSD – WD Black SN850X 2 TB NVMe SSD

PSU – Cooler Master MWE 850 V2 Gold
Gaming Performance
We're starting off with gaming performance in video games without RTX enabled. All of these FPS numbers are at 1440p resolution.
Assassin's Creed Valhalla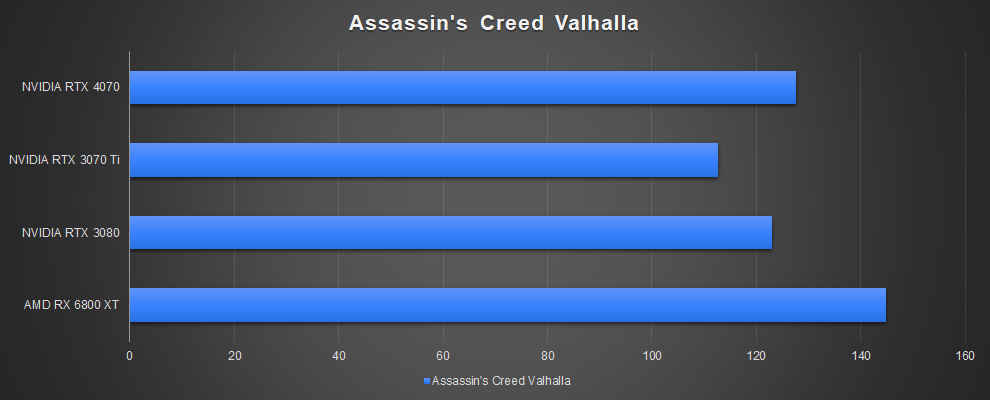 Battlefield 2042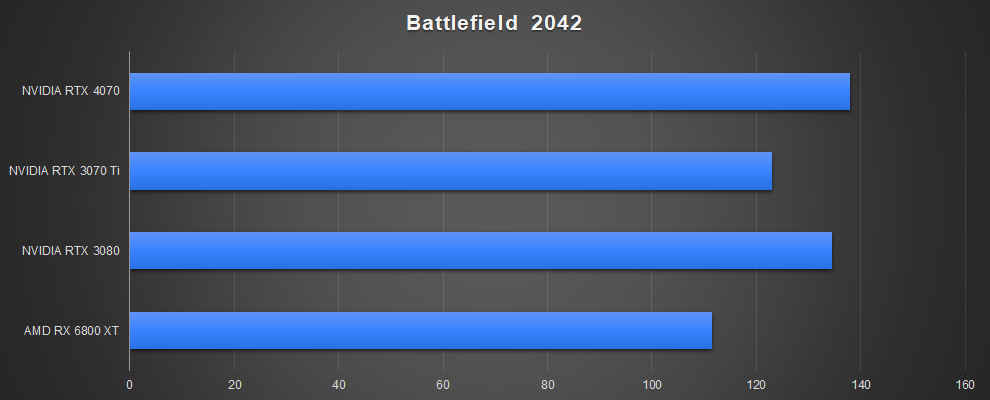 Metro Exodus (NO RTX)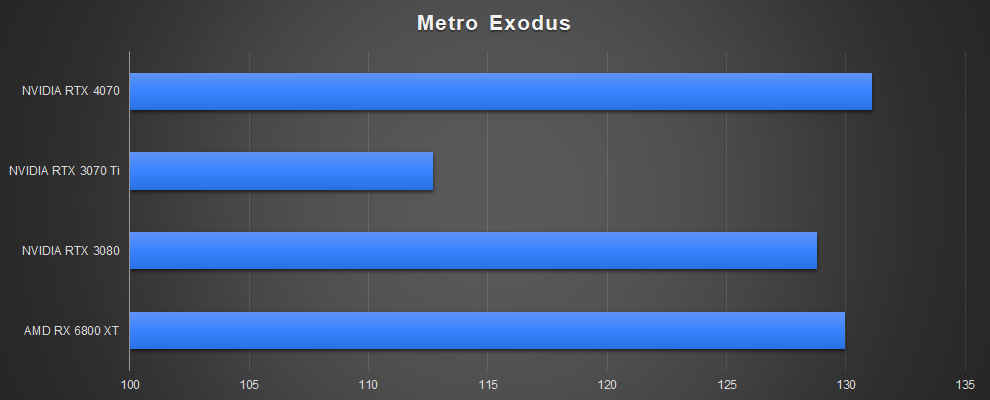 Shadow of the Tomb Raider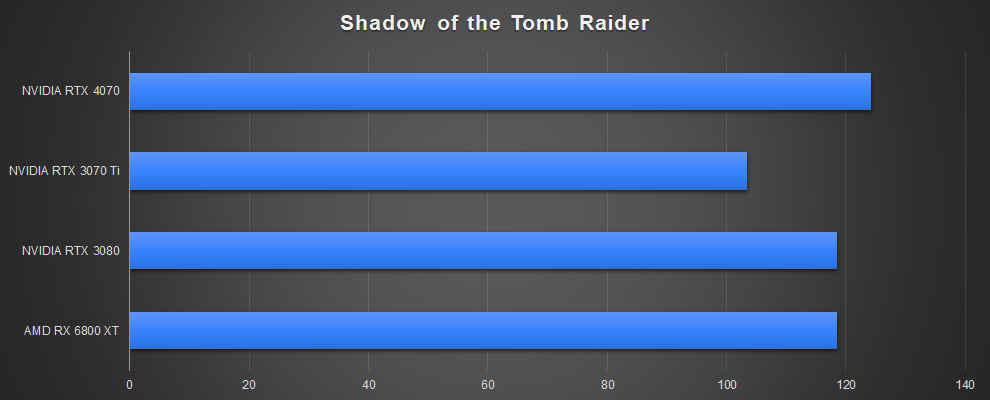 The Witcher 3: Wild Hunt (NO RTX)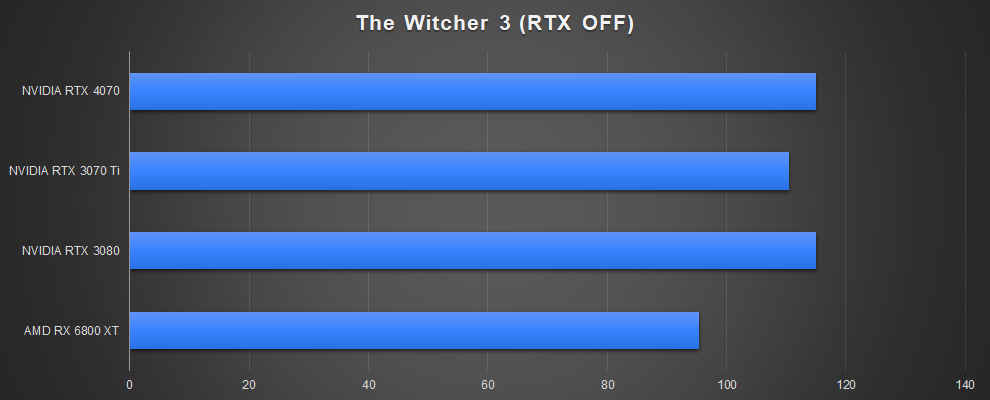 Ray Tracing Performance
Switching on to RTX performance in synthetic benchmarks as well as video games we see a close similarity to the RTX 3080 across most benchmarks.
Synthetic – 3DMark Port Royale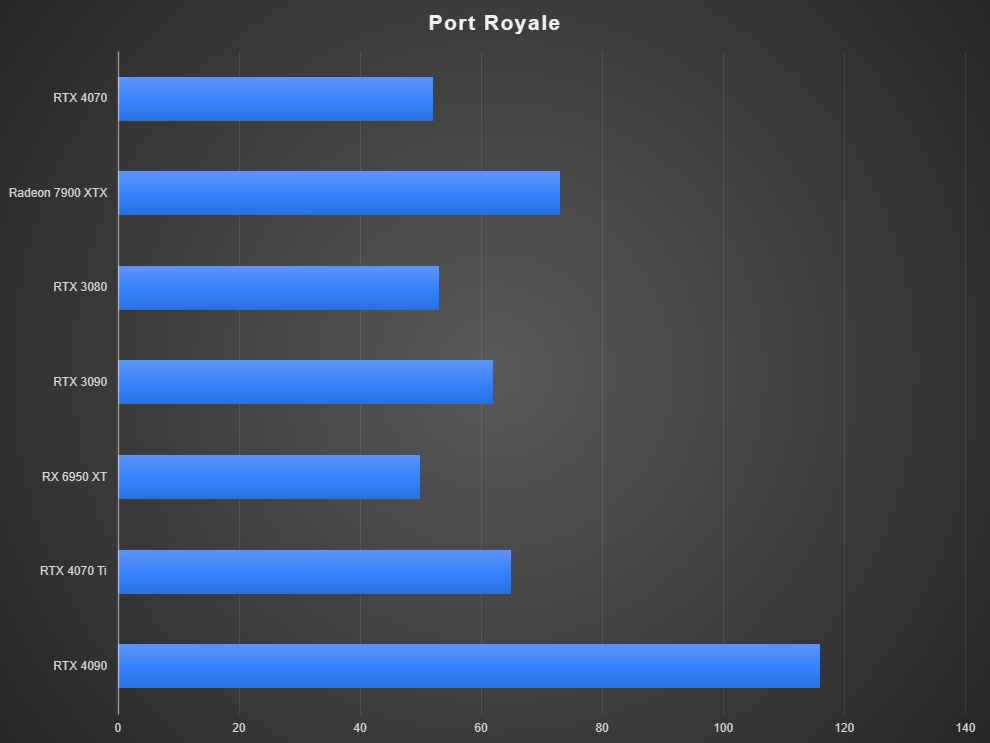 Cyberpunk 2077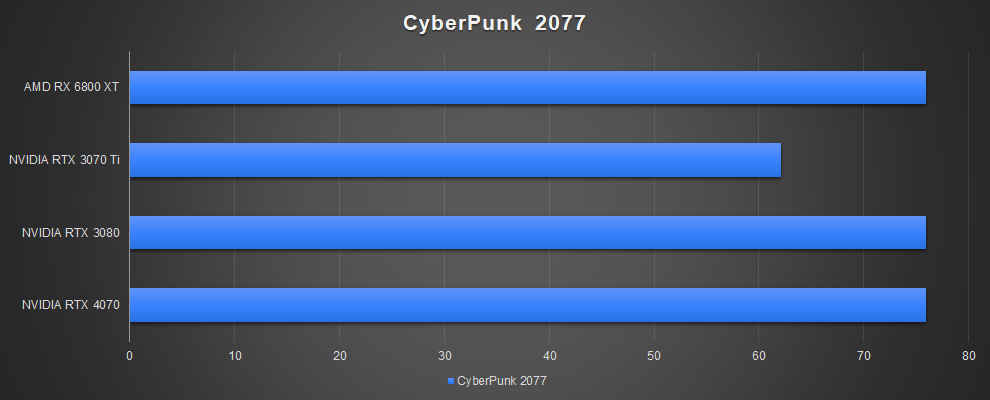 F1 2022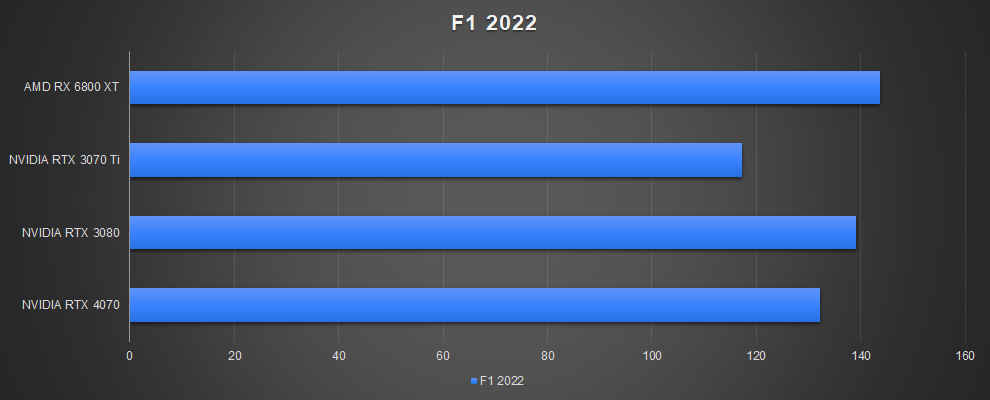 HITMAN 3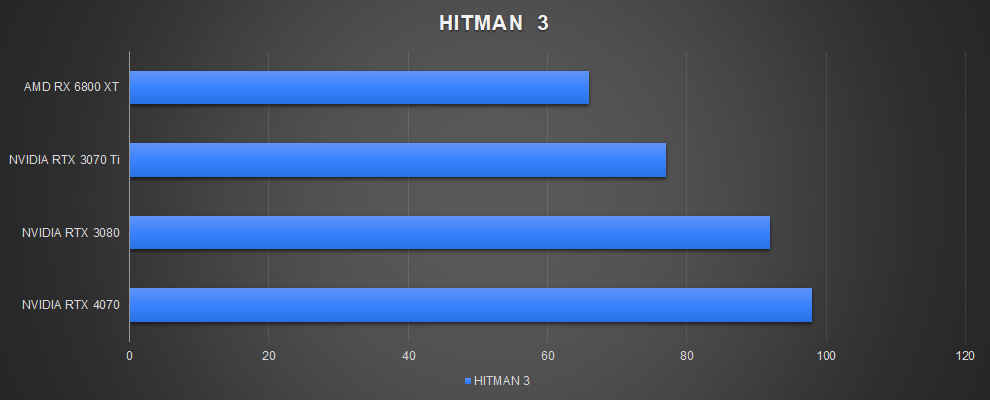 The Witcher 3: Wild Hunt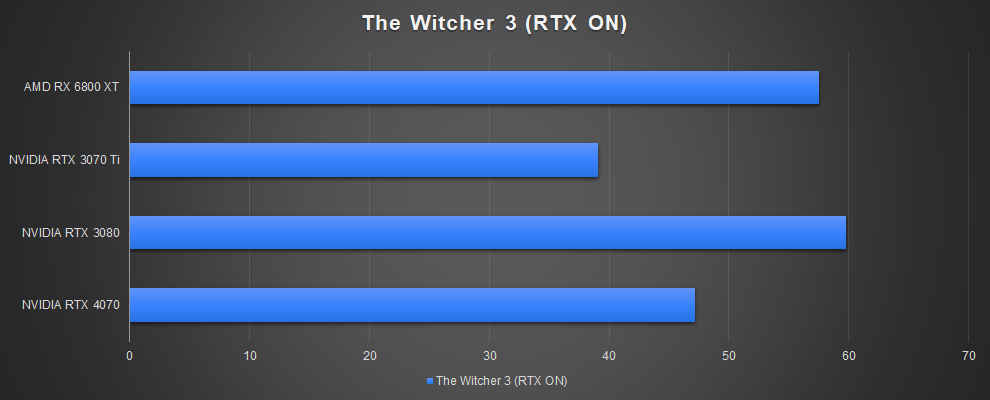 Warhammer 40K: Dark Tide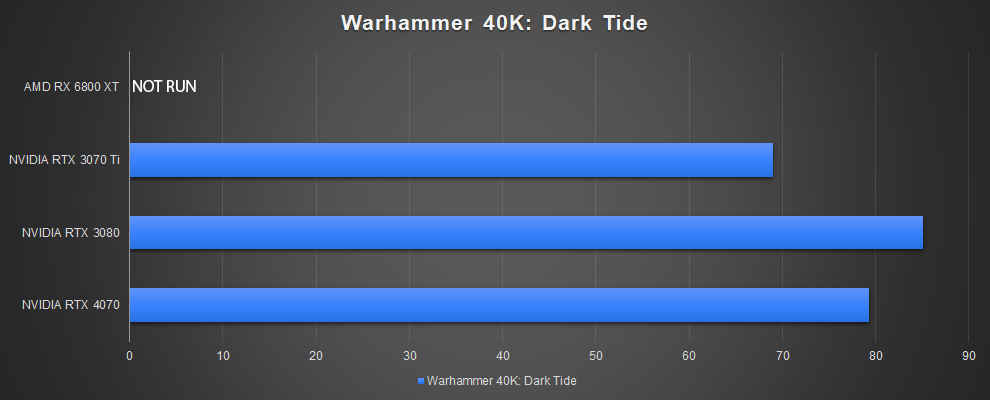 Synthetic – 3DMark TimeSpy (Graphics Score)
In 3DMark TimeSpy, we see the RTX 4070 perform quite similar to the RTX 3080 but with a slight lead. Driver performance improvements over time can also account for the wider performance gap.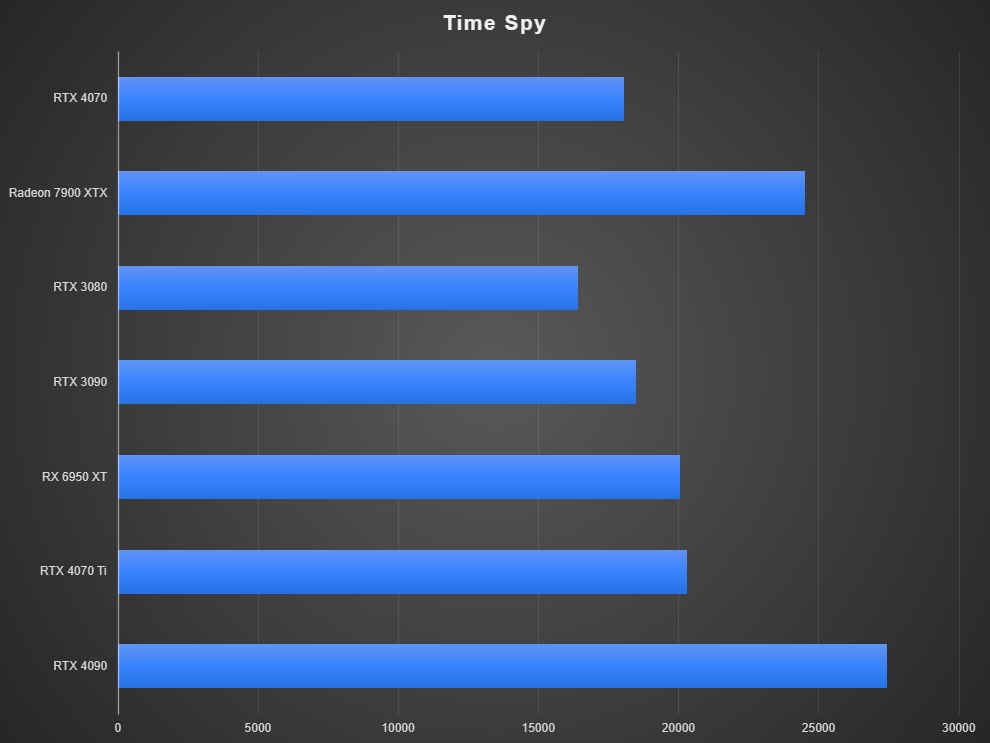 Synthetic – API Performance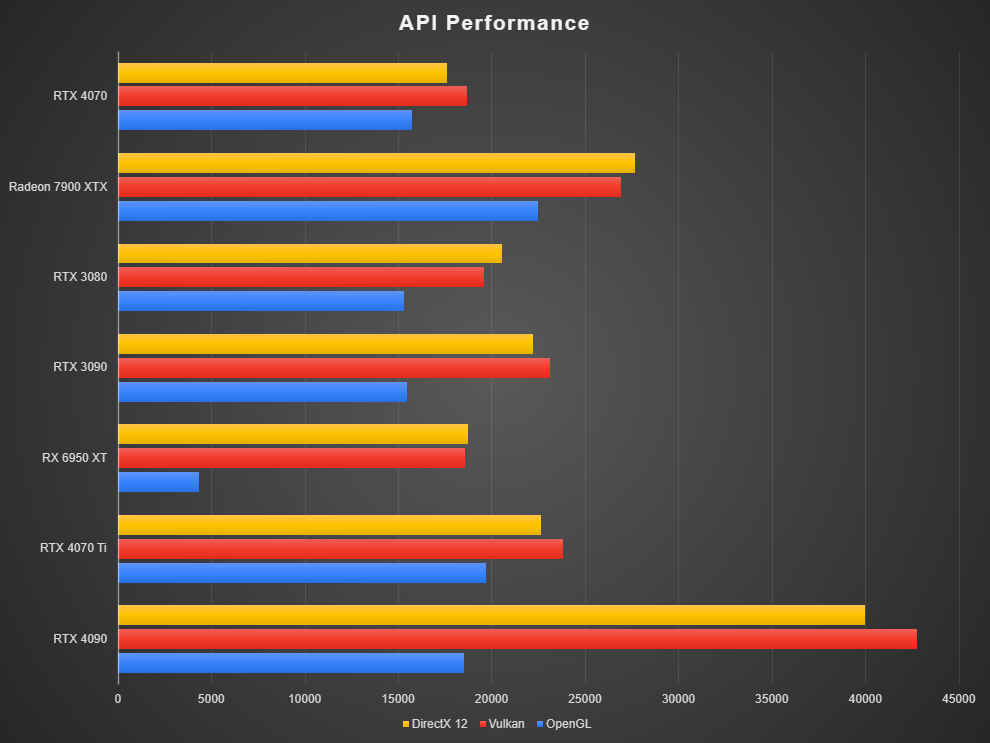 Load Temperatures
Peak temperatures with the grapics card under load is very much in line with the other RTX cards and even the AMD RX 6000 series cards. Every card is hovering aorund 70 degrees Celsius under gaming load so there's nothing of note to talk about here.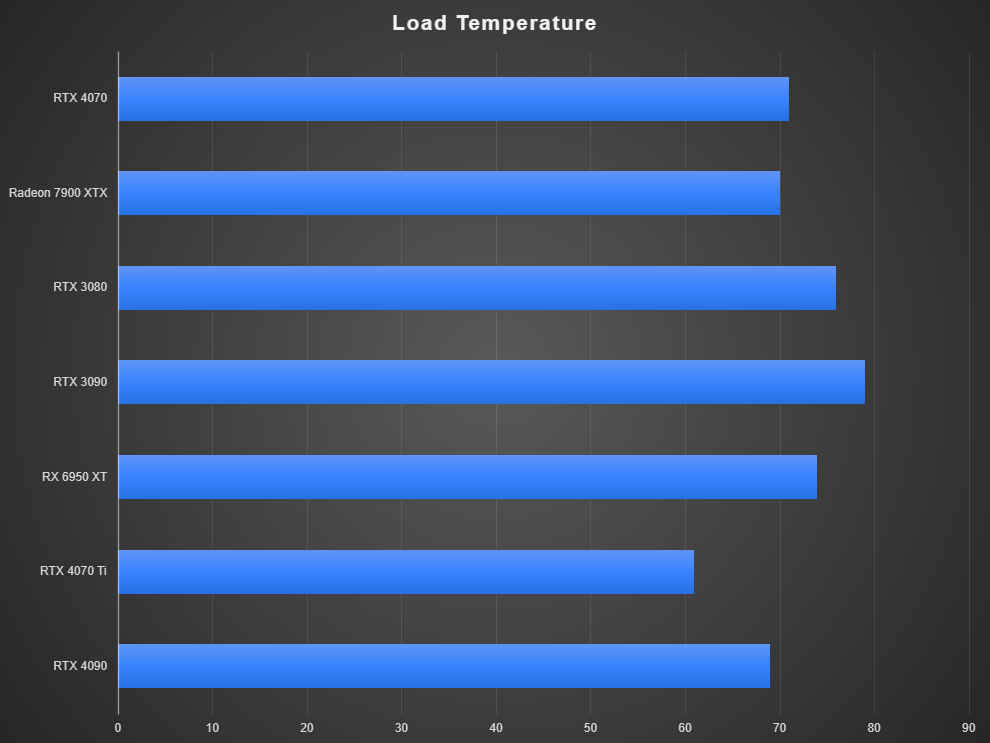 NVIDIA GeForce RTX 4070 Price and Availability
The NVIDIA GeForce RTX 4070 will be available for sale starting April 13, 2023 and will be priced at INR 62,000 in India inclusive of all taxes. The official launch MSRP for the RTX 4070 is USD 599. So it's pretty decently priced considering that it is retailing for Rs 62,000 in India. Partner AIB graphics cards will also be available starting April 13, 2023.
NVIDIA GeForce RTX 4070 Verdict
The NVIDIA GeForce RTX 4070 is a pretty good upgrade for folks coming in from an RTX 20-series card or older. Currently, the RTX 3080 is retailing for INR 66,000 in India so the RTX 4070 easily surpasses the RTX 3080 considering that it is equal in performance in most games without RTX or even when running DLSS 2 along with RTX. The key differentiators are the improved RT Cores, Tensor Cores and improved power efficiency thanks to the TSMC 4N process that it is build on. You can easily say that the RTX 3080 has been effectively replaced by the RTX 4070.