It's been two years since OnePlus launched its flagship TWS product – the OnePlus Buds. Now, the company has launched the long-awaited reboot alongside the OnePlus 11. The successor is dubbed OnePlus Buds Pro 2 and to reclaim its "Pro" moniker, OnePlus has packed it with a plethora of features. From a new dual driver setup to a Dynaudio collaboration to Spatial Audio, these buds seemingly have it all. However, features alone do not make a pair of earphones worth your hard-earned money. It is equally as important to have good tuning, a decent enough microphone, and great battery life in 2023. Priced at ₹11,999, the OnePlus Buds Pro 2 compete against the likes of earphones such as the OPPO Enco X2 and Jabra Elite Active 4. So, it faces some tough competition in its price bracket. 
OnePlus Buds Pro 2: Build, design, and fit
The OnePlus Buds Pro 2 have a simplistic and classy design. The case is extremely similar to the last generation one with a couple of nuanced changes. It is a sleek matte-finish case that can fit into pockets and purses with ease. The top houses a simple OnePlus logo and Dynaudio branding as well to highlight the collaboration. 
The OnePlus Buds Pro 2 is available in two colourways – Obsidian Black and Arbor Green. We got the former for review, but the Green variant looks fantastic as well and matches the OnePlus 11's Eternal Green colour variant. The case, however, cannot be opened one-handed with ease, which is slightly disappointing. Additionally, the matte surface can also get scratched and scuffed easily over prolonged usage, so we'd recommend you to exercise some caution about where you store the case.
The charging case features an LED battery indicator on the front and a USB Type-C charging port at the back. Upon opening the case, you will also see "Co-Created With Dynaudio" on the inside of the lid. The buds are secured firmly inside the case and the magnets holding them are sufficiently strong. There's also a pairing button here. The overall build feels pretty robust but the case's lid is slightly flimsy since it isn't secured by metal.
The buds have a half matte half glossy look, the same as the original OnePlus Buds Pro. On the stems, you get pressure-sensitive controls, which worked like a charm. We've always preferred pressure-sensitive controls over traditional touch controls since they aren't as prone to accidental touches.
As for comfort, the OnePlus Buds Pro 2 fit nicely in the ear. Although we couldn't achieve as secure of a fit as with the OPPO Enco X2, the buds stay put during light exercises and jogging. They are also quite lightweight, so they can be comfortably worn for hours on end. OnePlus has also added IP55 dust and water resistance to the buds. As a bonus, you can get an IPX4 water resistant charging case!
OnePlus Buds Pro 2: Features
The OnePlus Buds Pro 2 are absolutely brimming with features. In fact, it is one of, if not the most, feature-rich pair of truly wireless earphones we've tested to date. Sadly, some of these features are restricted to OnePlus users and some are even restricted merely to OnePlus 11 users. We are not fans of this approach, but OnePlus seems to be following the Apple and Samsung route of attempting to induct users into its "ecosystem".
The latest addition to the earphones is Spatial Audio support. Co-developed with Google and Dolby, Spatial audio on the OnePlus Buds Pro 2 allows users to listen to supported content with surround sound that adds a layer of immersiveness. It also comes packing Dolby Head Tracking that moves sound as you move your head. Sadly, this feature is only supported on the OnePlus 11 for now, but on its website, OnePlus promises that it will be supported by more models "in the near future". So here's hoping for that.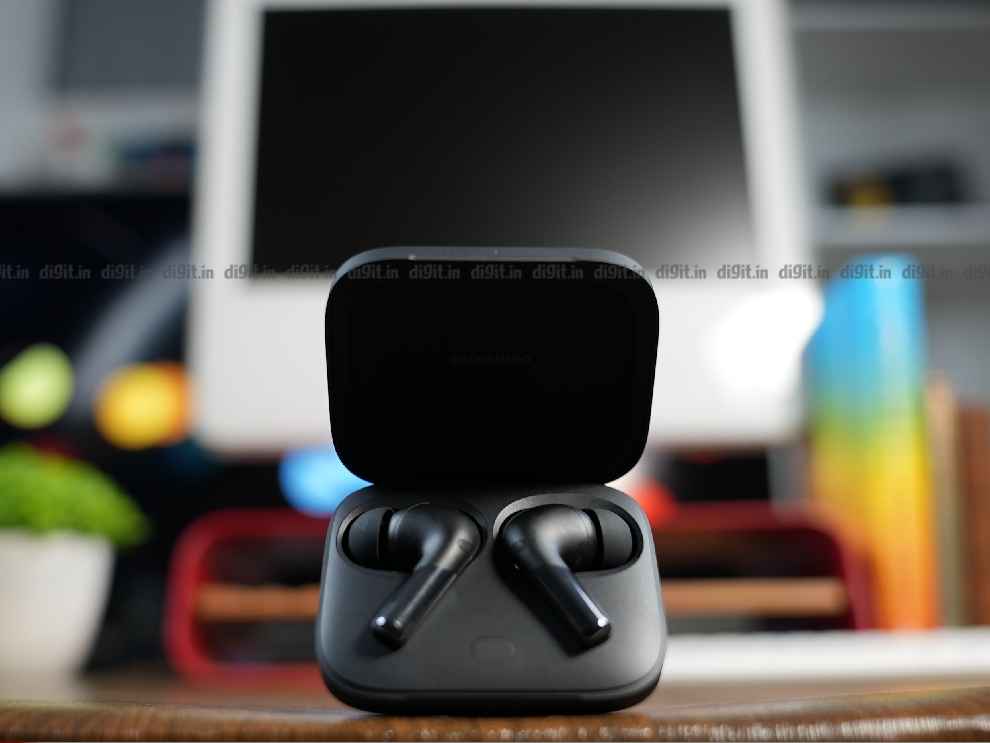 The buds come with Dual Connection or multipoint connectivity as well, that allows you to connect them to two devices simultaneously and switch seamlessly between them. The feature worked quite flawlessly on an Android phone and Windows laptop. There's also Google Fast Pair support that allows for super fast pairing and also links the buds to your Google account. So, even if you're attempting to pair with a new device with your Google account logged in, you will get a prompt to do so quickly. 
OnePlus has also added 54 ms low-latency mode, but that's a feature limited to a couple of OnePlus phones only. OnePlus has also stated that LE (Low Energy) Audio will be released via an OTA update later in 2023. Bluetooth LE Audio will possibly allow for extended battery life and lower latency, so that's something to look forward to.
Now, let's move on to the HeyMelody app which allows users to access most of the features the OnePlus Buds Pro 2 pack. OnePlus and OPPO smartphone users can access these settings in their Settings without the need for an app. For other Android and iOS users, the HeyMelody app houses all the features. 
The app has basic features such as battery levels, Noise Cancellation mode toggles, and customisable controls. Where it goes beyond is the addition of numerous other features. One such feature is Personalised noise cancellation where the ANC effects are personalised based on the structure of your ear canal. While it didn't change the level of NC too much in our testing, your mileage may vary. Same goes for Golden Sound – personalised sound tuning according to the structure of your ear and your hearing characteristics. 
You also have several EQ presets tuned by Dynaudio including Balanced, Bold, Serenade, and Bass. The Balanced Dynaudio preset is what we largely tested since it is activated by default out of the box. There's also a sound preset tuned by famed composer Hans Zimmer. Within the EQ preset menu, there's also an option to turn on BassWave that heightens the bass response even more – although you maybe wouldn't want to do that. We'll explain in the next section. You can also customise the EQ with the 6-band equaliser provided, which is extremely handy.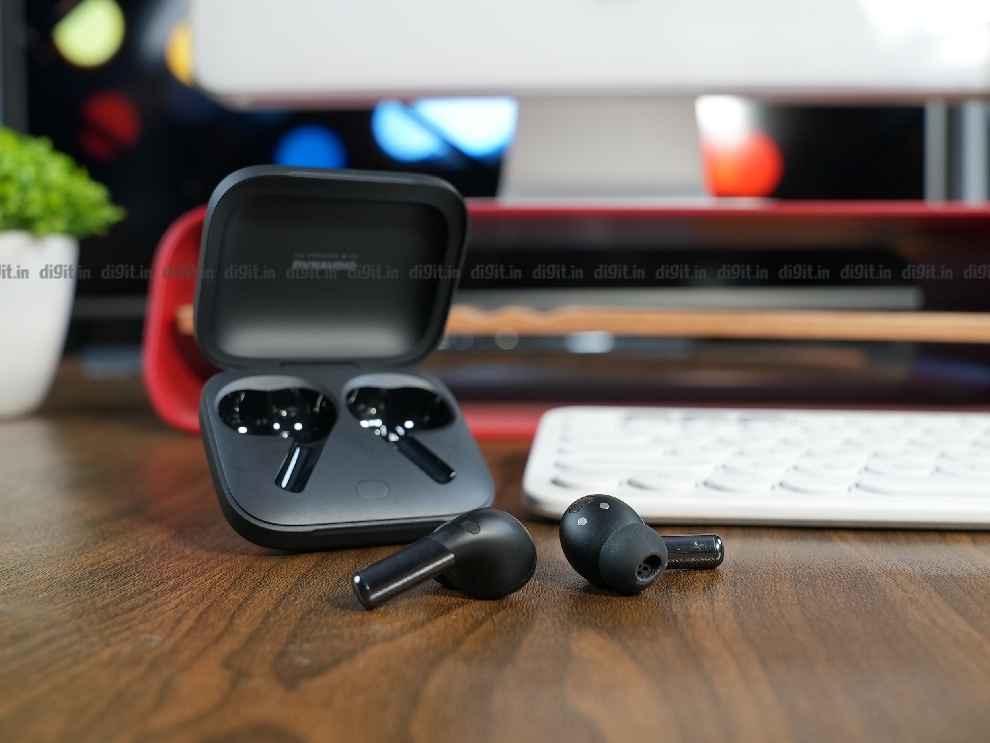 The app even lets you activate Zen Mode Air that plays White Noise to help you concentrate or sleep. There are variety of White Noises within the app that you can choose from. Now while OnePlus says 54 ms low latency mode is only active on OnePlus phones, there is a Game Mode within the app that you can toggle on. When we turned it on, there was a slight improvement in latency, as far as our eye could tell, but nothing ground-breaking. Bluetooth LE should help with that even more.
The app also comes with a Earbud Fit Test (which we love), a handy controls tutorial, and the ability to switch Noise Cancellation between different settings – Mild, Moderate, Max, and Smart. The last one – Smart – detects your surroundings and adjusts ANC levels accordingly which is quite nifty. 
As we mentioned before, the pressure controls work as advertised and you can customise them as per your preference within the app, but volume controls are missing. So, if that's essential for you, consider the OPPO Enco X2 which comes with built in volume controls on the stem.
OnePlus Buds Pro 2: Performance
The original OnePlus Buds Pro featured dual 11mm dynamic drivers which delivered good, punchy sound but it didn't really match up to other heavyweights of the time. With the OnePlus Buds Pro 2, the company has roped in a collaboration with Dynaudio – the same folks who co-created the fantastic-sounding OPPO Enco X2. Additionally, they've also replaced the driver system – you've now got one 11 mm woofer that handles the bass and mid frequencies and one 6 mm tweeter that handles the highs.
Immediately, you can hear the difference. The sound is slightly more balanced than the OG OnePlus Buds Pro and the separation is MUCH better. The earphones support LHDC, AAC, SBC, and LC3 codecs. LHDC supports hi-res, low-latency audio which has nearly three times the data transfer rate of conventional SBC. However, the LHDC codec is not as universal as LDAC and is only limited to a few phones – OnePlus 9, OnePlus 9R, OnePlus 9 Pro, OnePlus 10 Pro, OnePlus 10R, OnePlus 10T, OnePlus 11, Nord 2 and Nord 2T.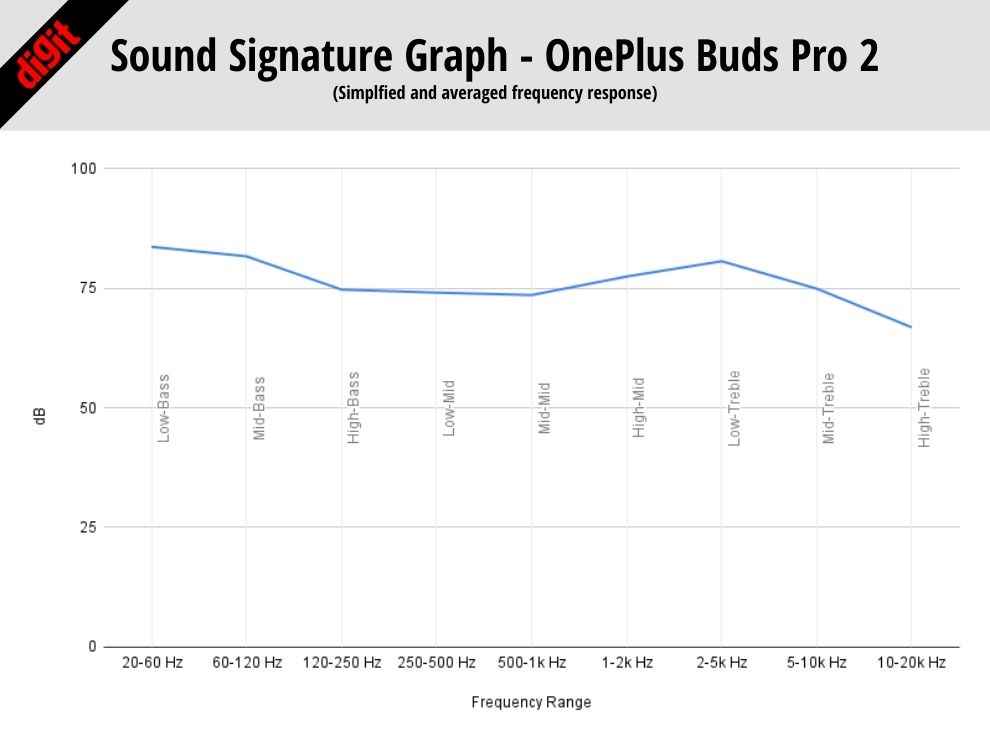 Let's focus on the sound signature again. The OnePlus Buds Pro 2, while more balanced sounding than the original ones, still have a warm, U-shaped sound signature that highlights the bass and highs. The sub-bass from 20 Hz to 160 Hz is clearly boosted which makes tracks with bass instruments and beats sound punchy and dynamic. However, due to the significant boost in bass, there is auditory masking in the mids that mutes out some of the detail in vocals and lead instruments.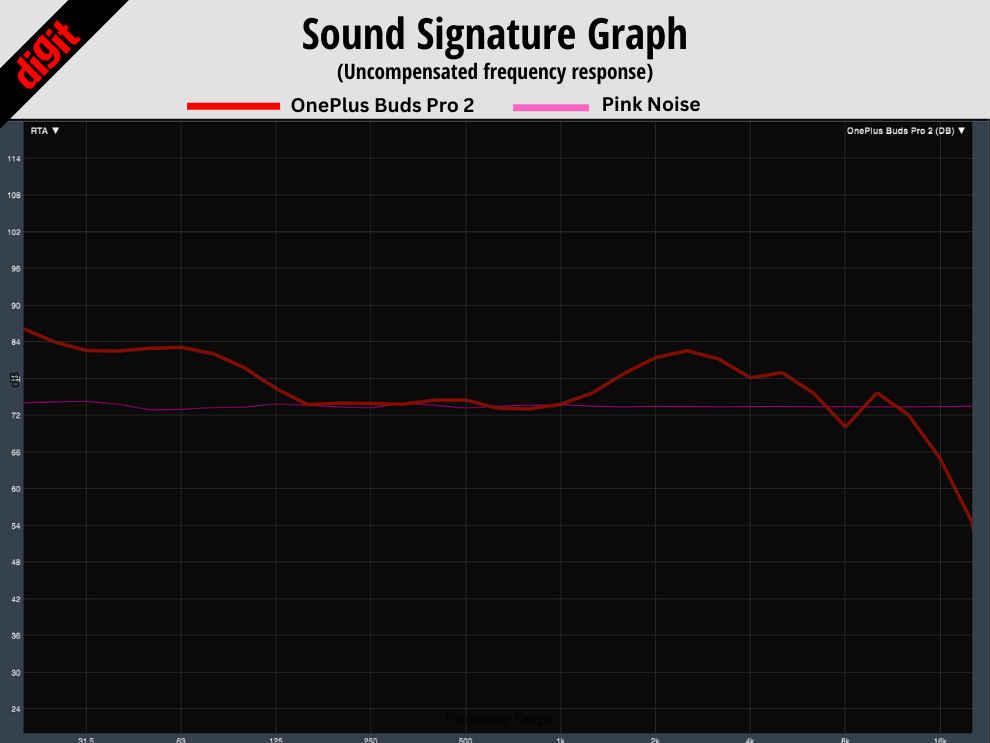 From 160 Hz to 1 kHz, the earbuds closely follow our benchmark neutral response, but the highs up to 6 kHz are boosted yet again which can bring in some unwanted sibilance. The highs are nice and sparkly though but the overall sound profile lacks the timbre and clarity of the OPPO Enco X2. Nevertheless, this is a more mass-oriented sound than the OPPO Enco X2 and many people, especially bass lovers, will thoroughly enjoy this dynamic sound profile. The earbuds sound good with genres such as rap, pop, hip hop, EDM, and Bollywood. But for podcasts and the classical genre of music, we'd suggest you to look elsewhere.
Overall, these earbuds – despite being touted as "audiophile" friendly by OnePlus – isn't ideal for purists and audiophiles since the bass-bias is on the higher side and the auditory masking in the mids clips a bunch of detail in tracks. However, for the masses, this is sound signature will 

surely be a crowd pleaser.
We also compared the OnePlus Buds Pro 2 with the Jabra Elite Active 4 and the Oppo Enco X2. Here's how they fared:

[Click on the pair you want to see the comparison graph of]
The microphone performance, on the other hand, is something that impressed us greatly. The OnePlus Buds Pro 2 houses a six-microphone setup (3 on each earbud) which works with AI to block ambient sound from disturbing calls. The microphone set up has definitely improved over the original OnePlus Buds Pro. The voice of the speaker is heard clearly and it doesn't sound muffled or distant. There's also significant ambient noise reduction which allows for distraction free calls in indoor environments and decent performance outdoors as well.
OnePlus Buds Pro 2: Battery life
While the battery life of the OnePlus Buds Pro 2 is impressive, it hasn't improved much from its predecessor. You get 39 hours of total battery backup (earbuds + case) with ANC turned off and 25 hours with ANC turned on (earbuds + case). These numbers are provided by OnePlus and were achieved with the AAC codec active.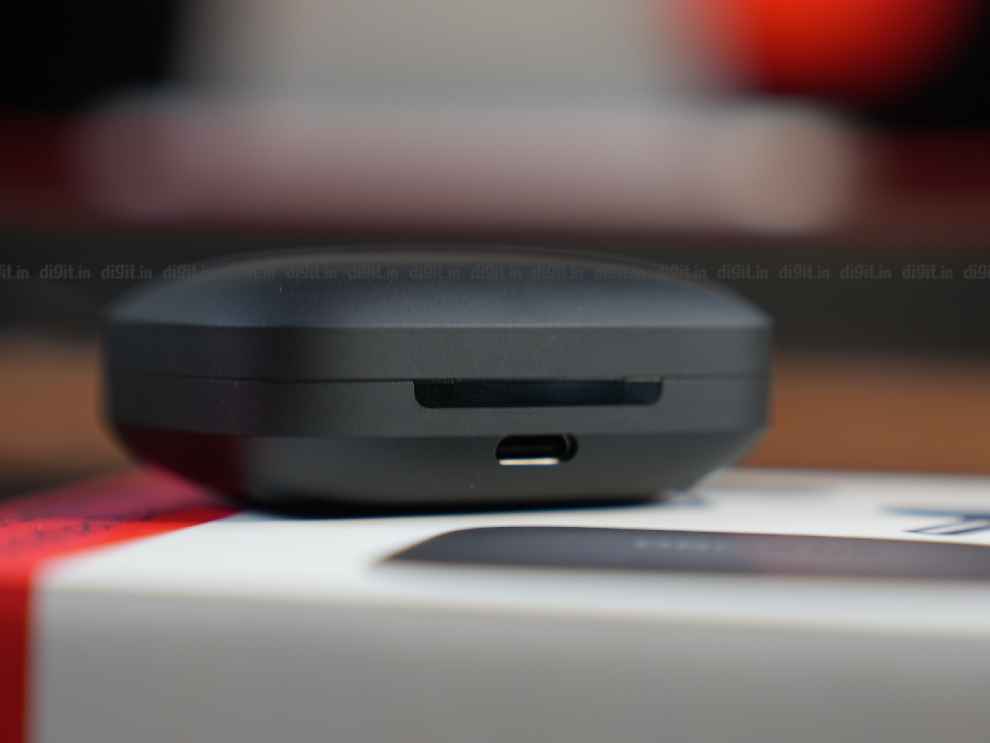 We tested the earbuds with AAC active and ANC turned on and we got 5.5 hours on the earbuds and 22 hours in total with the charging case. If you turn off ANC, the earbuds will last you much longer. However, the improvement in battery life is miniscule compared to last generation, which is disappointing. Especially since many audio companies drastically increase, or sometimes even double the battery life, between generations. 
The earbuds also come equipped with Qi wireless charging support, so you can simply place the case on any Qi charger and charge the device up. There's also fast charging support where a 10 minute charge will get you 10 hours of listening time, which is pretty sweet.
OnePlus Buds Pro 2: Verdict
The OnePlus Buds Pro 2 is quite a solid upgrade over the original Buds Pro earphones that launched two years ago. These are the epitome of classy and mass-y earphones. Not only do these earphones come with a suave design, they also come with a plethora of features and a mass-appealing bass-forward sound signature which is improved over the original OP Buds Pro. You also get good battery life, an impressive microphone, and a fantastic accompanying app with hordes of features. However, where it lacks is sonic fidelity – a place where the OPPO Enco X2 shines – at the same price point. While the sound signature is far more balanced compared to the original OnePlus Buds Pro, the auditory masking in the mids means that audiophiles and purists should steer clear of these earphones. However, if you're a bass-lover and are looking for a pair of truly wireless earphones with practically every feature under the roof, the OnePlus Buds Pro 2 is a good choice. If you're a OnePlus user, it is an even better choice!