Fujifilm India has finally announced the release of their latest mirrorless camera, the Fujifilm X-A1. The camera is aimed at enthusiasts looking to upgrade from their point and shoots and move into the more professional shooting experience, without breaking the bank.
The Fujifilm X-A1 comes with a 16MP CMOS sensor, the first mirrorless camera from the company to not have an X-Trans sensor. However, it still retains the EXRII image processor found in the newer high end Fujifilm cameras which, according to Fujifilm, allows it to achieve fast operation, such as a speedy startup time.
The X-A1 also comes with a number of special in-camera effects, Toy Camera, Miniature, Pop Colour, High Key, Low Key, Dynamic Tone, Soft Focus and Partial Colour (Red/Orange/Yellow/Green/Blue/Purple). The camera also offers a Multiple Exposure mode which allows you to superimpose a second exposure onto the first exposure for a more creative touch. While the creative modes might appeal to the novice audience, Fujifilm has also included the five film simulation modes they are known for, namely; Provia, Astia, Velvia, Monochrome and Sepia.
Along with the Fujifilm X-A1, the company has also introduced their latest prime lens into the market, the Fujinon XF23mm f/1.4 R. The lens has a solid metal construction with an aperture ring around the lens barrel and feels as premium as any other Fujifilm lens in the past. The lens also comes with a distance scale etched into the body just in front of the manual focus ring, but does not include an IR adjustment marking. On a Fujifilm mirrorless camera, the lens offers an effective focal length of 35mm and coupled up with the 7 blade aperture, also offers a very pleasing bokeh.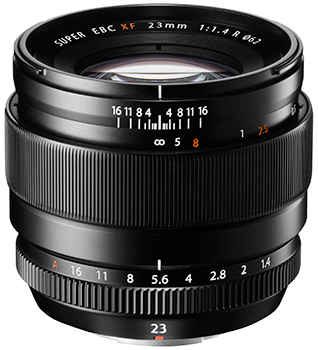 The Fujifilm X-A1 and the Fujinon XF23mm f/1.4R are both available across select stores for Rs. 44,990 (kit) and Rs. 66,999 respectively.
While the 23mm might seem a little pricey to some (pros would most probably jump at the opportunity of owning this lens), the X-A1 is actually a very neatly priced camera, especially given that it comes with a kit lens bundled. However, what seems a little awkward is that Fujifilm would price the kit option of the X-A1 so close to the slightly better spec'd X-M1. The X-M1 is Rs. 47,999 with the same 16-50mm f/2.5-5.6 kit lens, but comes with an X-Trans sensor. The X-Trans sensor has shown better performance when compared to the regular CMOS sensors, especially when it comes to film simulation.
While we do feel that Fujifilm could have priced the X-A1 at a slightly lower price point, we'd reserve any definitive judgment till we have reviewed the unit for ourselves.