Samsung has been in the audio business for a few years now and a majority of the company's audio products we've reviewed have fared commendably in our tests. These include the Galaxy Buds2, Galaxy Buds Pro, and a few others. However, with the new Samsung Galaxy Buds2 Pro – which launched alongside the company's foldables this year – Samsung has made a pair of truly wireless earphones we can truly deem to be fantastic when faced with competition. The specifications and features on offer are vast – rivalling big names from Sony, Sennheiser, Bose, and others. However, for an asking price of ₹17,999, the performance of these earphones must be top-tier in order to give our favourite TWS this year a serious run for their money. Equipped with 24-bit audio support, coaxial dual drivers, and sound tuning by AKG, the Samsung Galaxy Buds2 Pro is already set up for success. Let's see if these earbuds managed to match our lofty expectations in this detailed review.
Samsung Galaxy Buds2 Pro Review: Build, design, and comfort 
The Samsung Galaxy Buds2 Pro are strikingly compact – more so than most premium TWS earphones on the market now including the Sony WF-1000XM4, AirPods Pro (2nd generation), and the Sennheiser Momentum True Wireless 3. They're also undeniably premium-looking with a soft-touch matte finish on the case and the buds, and the suave Bora Purple colour Samsung sent us – which happens to be our favourite in the colour variants. 
The compact in-ear form factor is much appreciated since it is so much more inconspicuous than the stem-style buds made popular by the AirPods. There are vents on the earphones that allow for pressure to dissipate effectively. Samsung has provided two extra sizes of silicone ear tips in the mix for a total of three.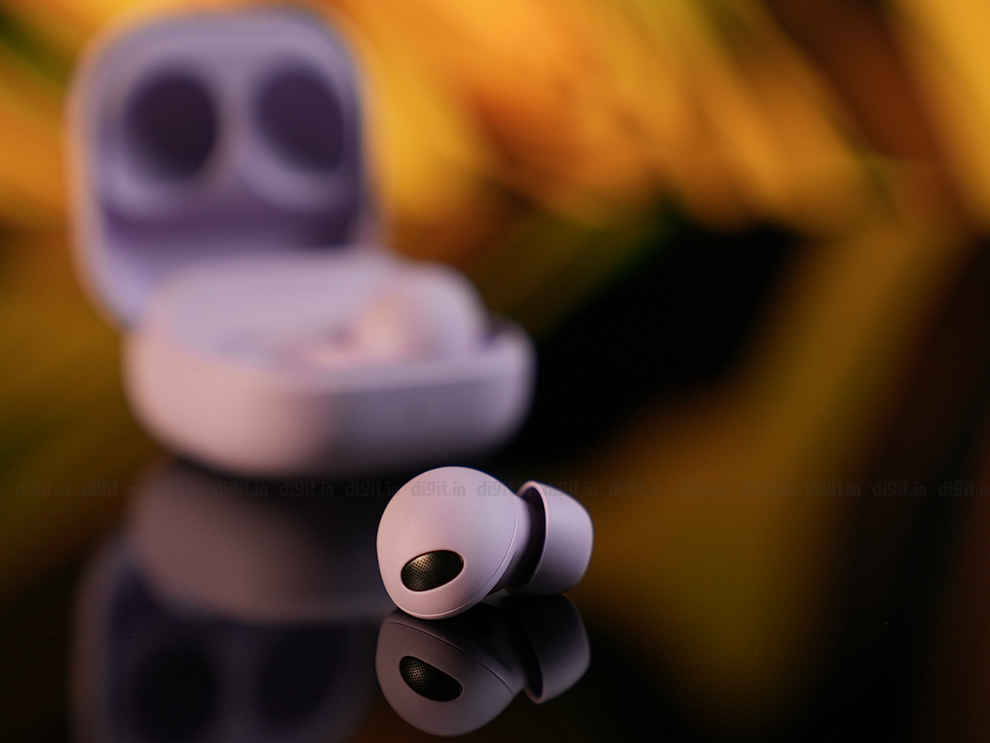 However, the lack of ear fins or wings was felt this time around with none of the three sizes (S, M, L) perfectly fitting the reviewer's ears. However, others in the test centre managed to find a fantastic match, so our advice would be to try out these earbuds at a store before investing in them. Nevertheless, the earbuds are light enough at 5.5 g meaning you won't feel any discomfort when using them for long periods.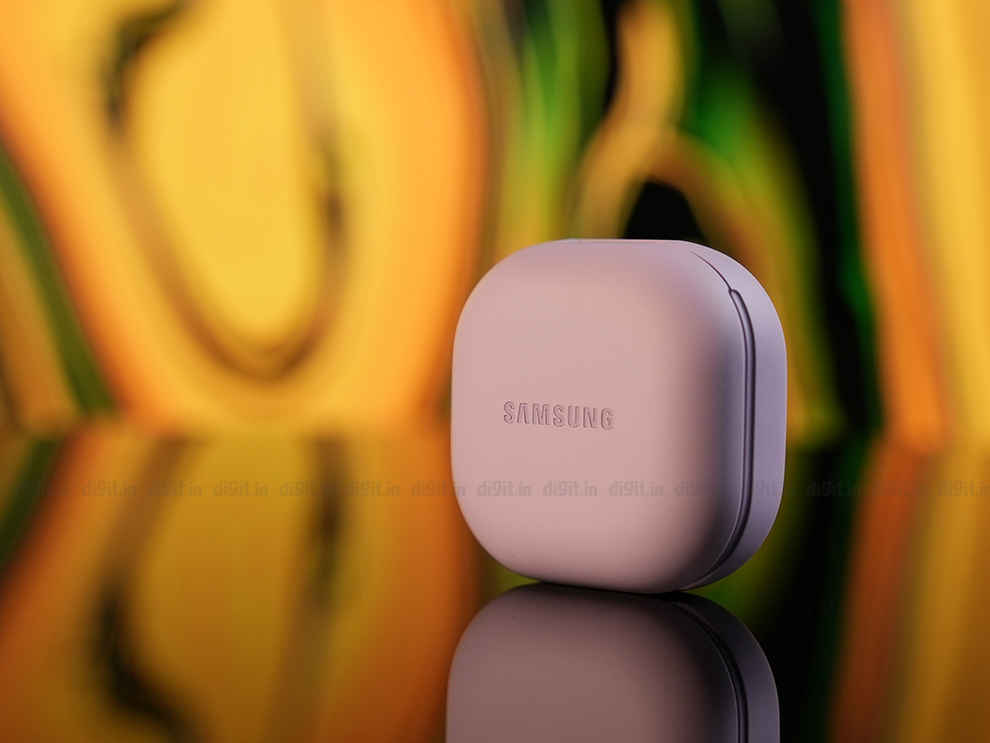 The clamshell-like case is easily pocketable, looks charming, and is pretty robust as well. There's no metal hinge to reinforce the case's lid but we still found the hinge to be durable enough having dropped it on multiple occasions.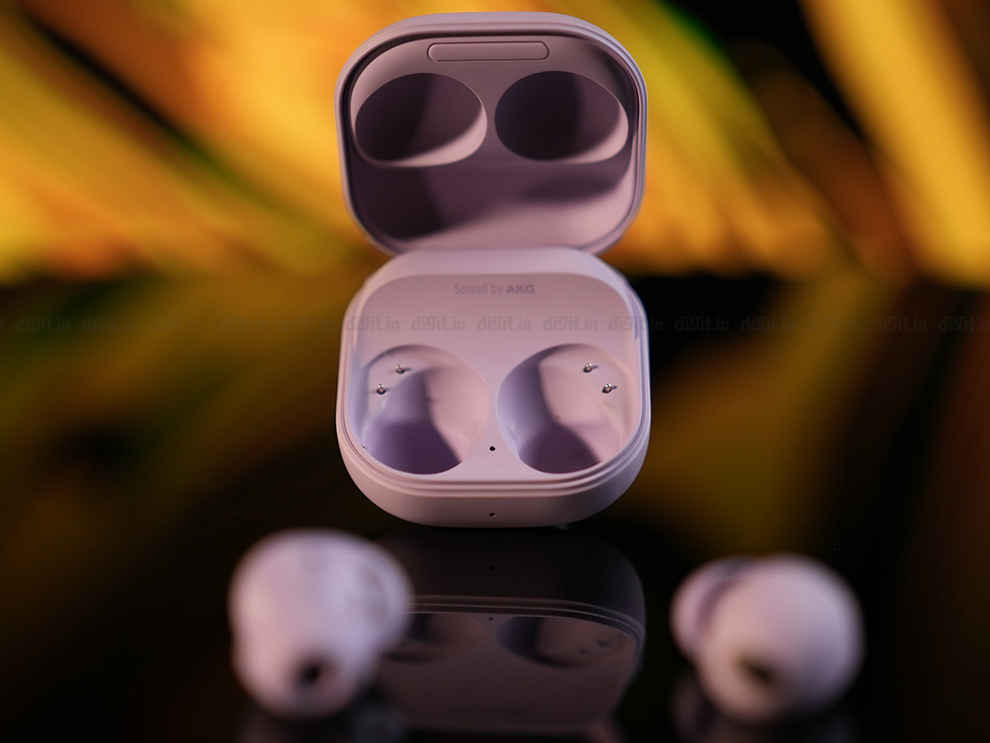 The buds come with an IPX7 sweat and water resistance rating, so splashes and sweat will do no damage to them – and while we haven't dunked these in water (yet), they should survive a few minutes of that as well. Each earbud houses a touch-sensitive panel on the outside that controls music playback, ANC, calls, and voice assistant commands, however, while accurate; they're a tad too sensitive for our liking. Overall though, the Samsung Galaxy Buds2 Pro are well-built, premium truly wireless earbuds that look and feel fantastic.
Samsung Galaxy Buds2 Pro Review: Features
One of the most feature-laden pairs of TWS earphones on the block, the Samsung Galaxy Buds2 Pro has almost every modern-day feature. However, one feature we found to be sorely missing was multipoint connectivity which is the ability to connect the earbuds to two devices simultaneously and switch between them seamlessly. 
While the Samsung Galaxy Buds2 Pro come packing a feature dubbed Auto Switch that can smartly switch between connected Samsung devices, not everyone is completely immersed in the Samsung ecosystem and this seems a very Apple thing to do – forcibly locking users into an ecosystem to make the most out of their device's features is not something we appreciate.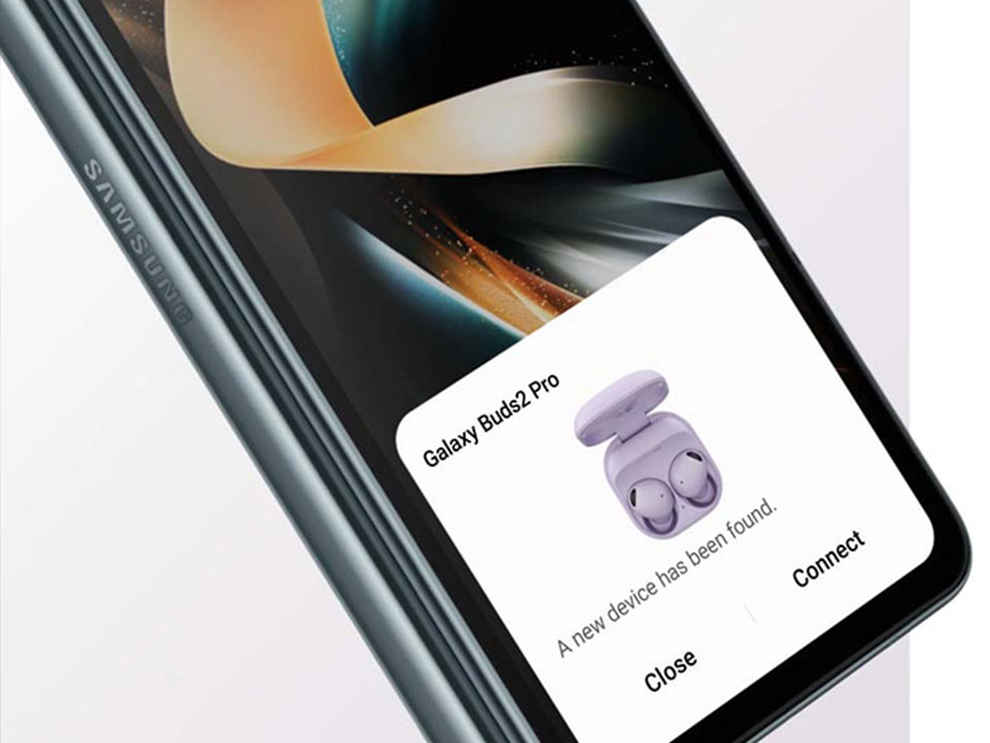 The Galaxy Wearable app (Android only) gives users access to a lot of customisation options, however, it does ask for a bunch of permissions which you can't opt-out of. You do get access to a suite of features including EQ presets, customisable controls, an ear tip fit test (surprisingly accurate!), ANC controls, Find my earbuds, and Samsung's 360 Audio with head tracking. Sadly, there's no customisable equaliser which is disappointing, especially for its asking price. Also, since the app is Android only, iOS users will miss out on these app-activated customisations.
Samsung's 360 audio with head tracking feature works a lot like Apple's Spatial Audio feature. We enjoyed using this and it does bump up the immersiveness to a great extent, however, you can tire your ears out if you have this turned on at all times. Sadly, this is a Samsung-exclusive feature so you cannot experience it on any other Android device.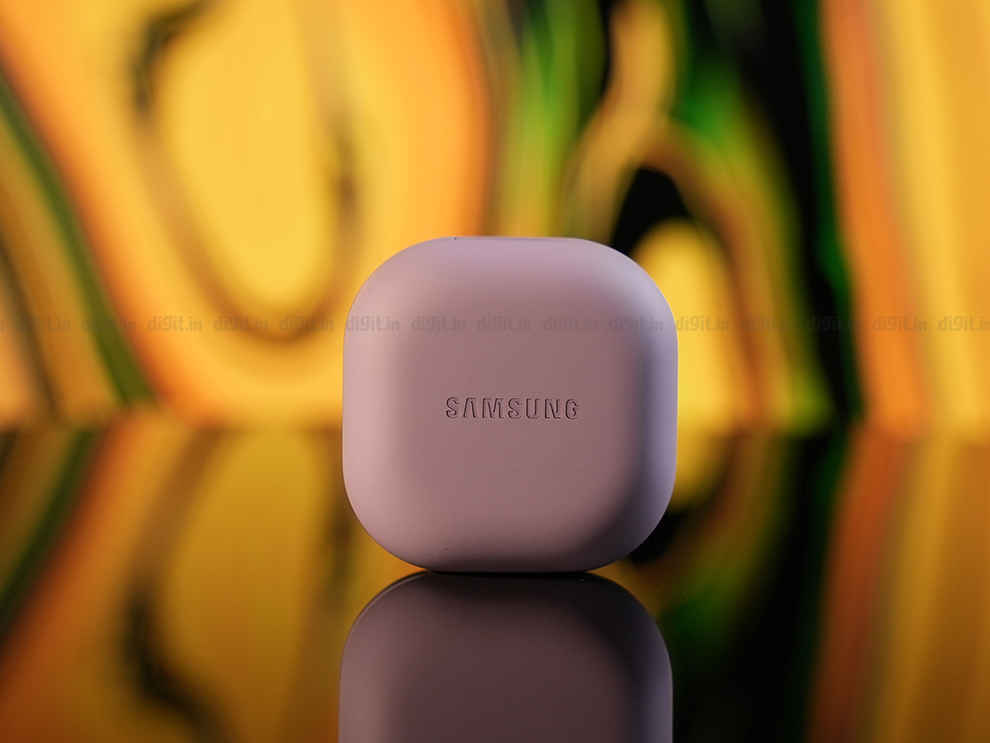 That aside, you can also set up a Galaxy Wearable widget on your home screen which is extremely nifty and allows you to toggle ANC and touch controls. Speaking of touch controls, the Wearable app allows users to customise some commands. Samsung has allowed customisation based on the "type" of commands. So, you can switch the touch and hold command on the earbuds from controlling volume to toggling ANC modes. You can't customise the tap 1x or 2x commands, which is extremely limiting. 
Samsung has also added the 'Voice Detect' feature which was also present on the OG Galaxy Buds Pro. This feature has improved since the last time we tested them and activates even more accurately than the similar 'Speak to Chat' feature on Sony earphones. Say something and the headphones promptly switch from ANC to Ambient Mode, allowing you to have a quick conversation. All in all, the Galaxy Buds2 Pro are still one of the most feature-rich TWS earphones on the market, but some omissions such as multipoint, customisable EQ, and others can be hard to digest at this price.
Samsung Galaxy Buds2 Pro Review: Performance
Equipped with dual coaxial drivers and tuning done in collaboration with AKG, the Samsung Galaxy Buds2 Pro are the best-sounding pair of consumer-grade truly wireless earbuds we've tested in 2022. We tested the 24-bit audio on the Samsung Galaxy S22 Ultra on Amazon Music and while it sounded great, the use case is quite niche since it is only available on a Samsung device running One UI 4.0 or higher and on a couple of streaming services such as Tidal and Amazon Music. That aside, even on apps such as Spotify and YouTube Music, the Galaxy Buds2 Pro sound fantastic.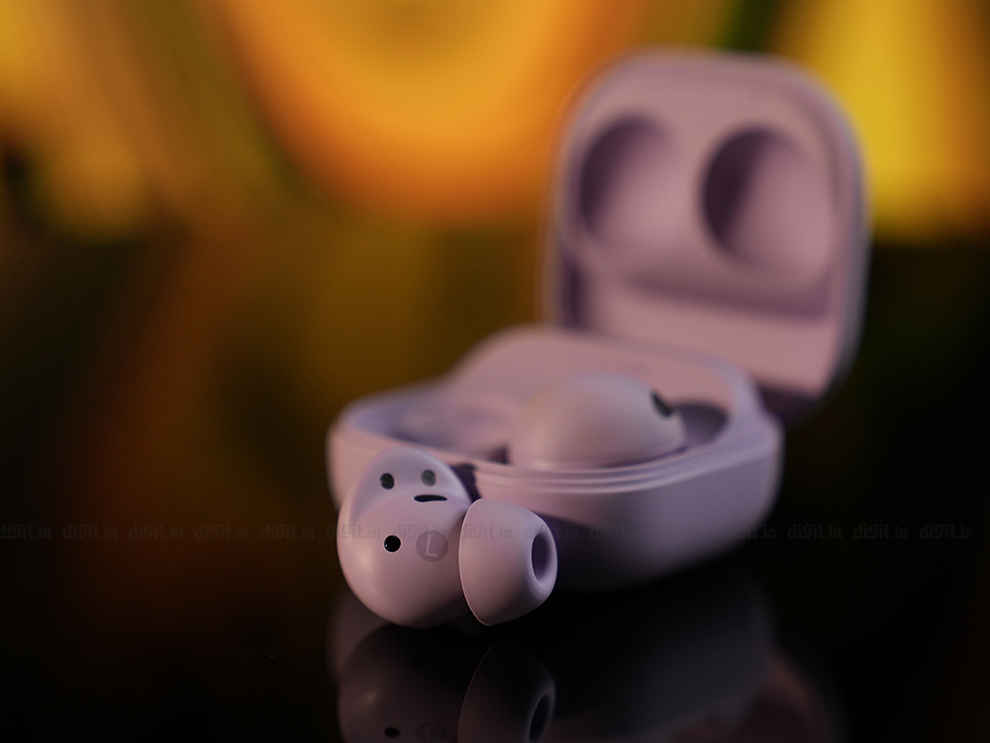 The buds provide an extremely musical and detailed sonic experience with full-sounding tunes and striking mid-range clarity. The sound fidelity is unparalleled with the woofer and tweeter taking care of different parts of the sound frequency; ensuring there are no overlaps to cloud the details in the mix. Essentially, this setup allows for detailed audio reproduction with instruments and vocals shining in their own space.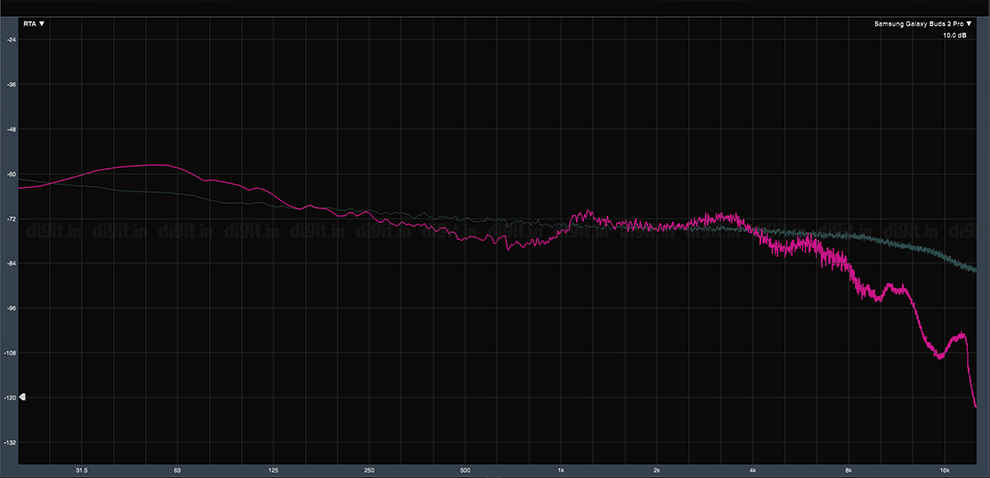 The bass response is extremely balanced, the mids sound exquisitely detailed, and the highs are quite well-produced resulting in a harmonious sound signature that works well with just about any genre of music. Whether you're listening to rock music or pop, the buds shine due to their balanced approach to all types of audio. The separation between vocals and instruments is excellent and the imaging is par excellence as well. The soundstage is quite wide for a pair of TWS earphones. The earphones definitely sound more dynamic and balanced than competitors such as the AirPods Pro (2nd generation) and the Sony WF-1000XM4.
Powered by Bluetooth v5.3, the earbuds have impressive wireless connectivity as well with no instances of lag or stutter recorded during our testing phases. The Active Noise Cancellation is also impressive enough and the three high Signal-to-Noise ratio microphones in each earbud do a great job at capturing ambient noise and cancelling them with equal and opposite waves, especially in the low-end. The Ambient Mode is good enough but doesn't sound as natural as the AirPods Pro (2nd generation). Still, on the whole, the Samsung Galaxy Buds2 Pro dominates the 2022 premium TWS segment when it comes to sonic purity.
Samsung Galaxy Buds2 Pro Review: Battery life
The Samsung Galaxy Buds2 Pro excel when it comes to sound quality, but they're just about average in terms of battery life. The earbuds come with a rated playtime of 5 hours on a single charge with ANC turned on; and 18 hours in total (5 hours on buds + 13 hours via case). This mirrors the battery life on the OG Galaxy Buds Pro, and the fact that Samsung didn't improve on this at all is disappointing.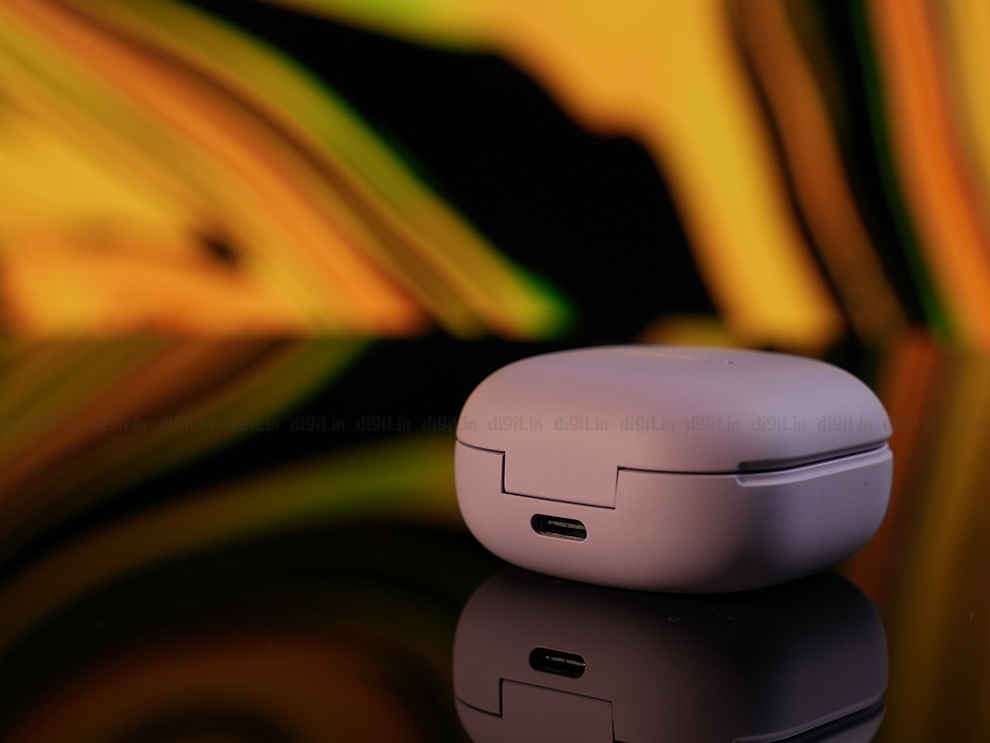 In our tests, the earbuds lasted 4 hours and 32 minutes with ANC turned on, which is mediocre by 2022 standards. The volume levels oscillated between 50 to 60 per cent the whole time. The numbers do see a significant bump if you turn off ANC but since most people will have it on, these numbers aren't at all awe-inducing. 
The earbuds do come with fast charging support though, so a quick 5-minute charge will give you an hour's worth of playtime. Additionally, there's Qi wireless charging support as well which is convenient.
Samsung Galaxy Buds2 Pro Review: Verdict 
We have no qualms recommending the Samsung Galaxy Buds2 Pro to those looking for a premium pair of truly wireless earphones. The Galaxy Buds2 Pro check almost every box, and the few misses can be overlooked thanks to fantastic audio tuning on the company's part. The coaxial dual drivers coupled with tuning by AKG yield dynamic and full-bodied sound which is balanced enough to enjoy just about every genre of music. The Active Noise Cancellation is impressive as well, however, the Sony WF-1000XM4 does edge the Galaxy Buds2 Pro out on that front. Due to the sonic brilliance of the Samsung Galaxy Buds2 Pro, it bagged the Digit Zero1 Award for the Best Performing Premium Truly Wireless Earphones of 2022 category. So, it is safe to say that, with the Galaxy Buds2 Pro, Samsung has set a new benchmark for not just itself but competing brands as well.