One of the headlining features of the iPhone 14 series has been Dynamic Island. It is the pill-shaped software interface that replaces the notch and also acts as a multi-tasking UI. Ever since Apple launched this feature, the whole tech community has been praising how clever and cool the feature is. And there were some who wished there was something like this on the Android side too. If you are one who wants a Dynamic Island on your Android phone, now you can get it this way.
XDA Senior Member Jawomo has launched a new app called dynamicSpot on the Google Play Store that lets you have the Dynamic Island on Android smartphones. Let's see how it works.
How to bring Dynamic Island on Android using dynamicSpot 
Here is how you can set up dynamicSpot:
1. Go over to the Play Store link and download dynamicSpot onto your Android phone. 
2. Open the app once it's installed. 
3. Choose the apps that you want to trigger the pop-up or say to work as part of the new pill-shaped island.
4. Grant notification access for it to show apps with notifications within the pill.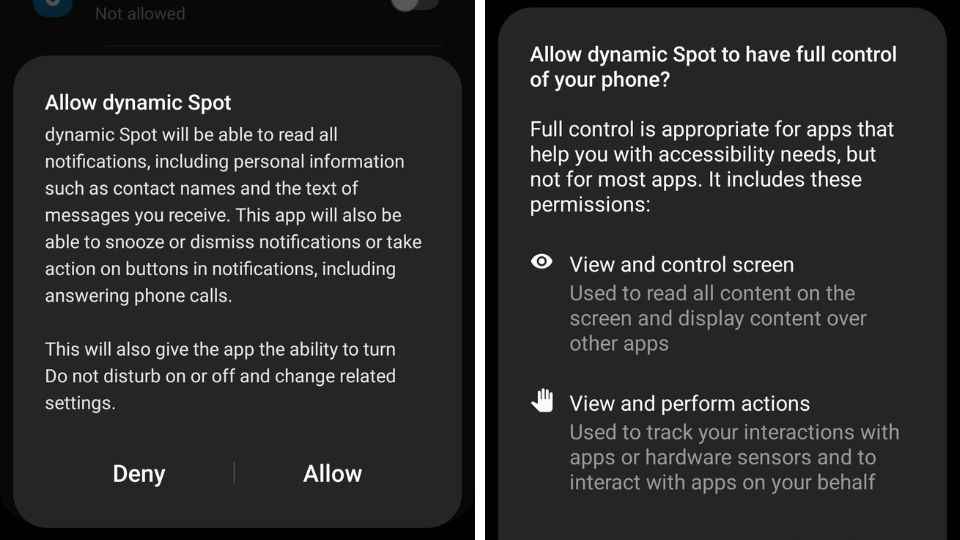 5. Allow it to draw on the screen, that is to display the floating pop-up even on top of other apps that you use.
6. We also advise you to ensure its battery optimization is set to 'unrestricted' mode so that it doesn't get disabled automatically by the Android system.
Within the dynamicSpot settings, you can also customize the position and dimensions of the pill, allow two popups in case of multiple notifications, and swipe options to clear notifications easily.
Note that some of the features like the ability to show the app on the lock screen and mapping tap or long press to different actions are locked behind a paywall. In other words, those are premium features that cost ₹99 in India.
Since the app is in early development, it may have certain limitations and bugs. However, for the pace at which it came about, we tip our hat to the developer. And appreciate the fact that this is what makes Android Android. Isn't it an operating system for tinkers like Jawomo?
For more technology news, product reviews, sci-tech features and updates, keep reading Digit.in.