Every laptop manufacturer likes to play to their strengths. Even in the premium category, you'd be surprised to know that not every manufacturer likes to go "all-in" in terms of innovation and engineering. It's 2022, inflation is high, and cutting corners is once again in trend. However, the usual players deliver every time, no matter the external factors. Last year I reviewed several Lenovo gaming and non-gaming laptops and noticed a similar trend in all of them. The laptop brand delivers on three key areas – solid build quality, above-average thermal performance, and high specification internal components. Every Lenovo laptop stands on these three key pillars, in my personal opinion. Last year's Lenovo Legion 5i was an impressive machine and today I am sharing my thoughts on the 2022 variant of the same device featuring a new design, more powerful components, and a lot more. So let's see whether the new machine can live up to the standard set by the old one. 
Lenovo Legion 5i Pro (2022) Specifications
Processor: Intel 12th Gen Core i7-12700H 14-core, 20-thread CPU with a maximum boost clock of up to 4.70GHz
Graphics Card: Nvidia GeForce RTX 3060 featuring 6GB GDDR6 VRAM based on the GA106M die and a 192-bit bus
Memory: 16GB DDR5 memory running in quad-channel mode
Display: 16-inch 165Hz IPS LCD WQXGA with 500 nits maximum brightness
Storage: 2TB PCIe Gen 4 SSD
Battery: 80Wh
Weight: 2.3kg (approx)
Lenovo Legion 5i (2022) Pro Overview
The Lenovo Legion 5i Pro sports a similar design to last year's model. The most visually apparent change is the removal of the back-lit logo from the laptop's lid. I think it might've been done to save some battery life or to give the laptop an understated look or both. In other areas, the laptop feels basically the same. It has a USB Type-A port, a headphone jack, a camera shutter switch on the right side, and two USB Type-C ports, including a thunderbolt port, on the left side. Last year's model also came with rear-placed ports and the latest Legion 5i Pro continues the same trend. It features an Ethernet jack, two-USB Type-A ports, a USB Type-C PD chagrin slot, the regular power delivery port, and an HDMI out. The access to these ports is a little restrictive as I'd have to turn the laptop sideways or close the lid to access them, but they do clear out the space on both sides of the laptop. 
The laptop also features a near identical keyboard and trackpad combo. They both work well. The keyboard includes a Numpad and all the keys also have a good amount of travel. My palm is a little big so it often ended up touching the trackpad's side resulting in accidental clicks but nothing major. Moreover, users can switch off the trackpad using a dedicated Function key. What users might find difficult to turn off is the Caps ON/OFF button prompt which appears on the screen every time I press it. It won't bother the average John Doe but for someone who writes a lot, it becomes annoying. Users can find tutorials online to turn it off but Lenovo should've included an option to turn it off within its custom firmware settings. 
Speaking of firmware, the Legion 5i Pro ships with the Lenovo Vantage custom firmware that houses controls for the MUX switch, performance mode, Wi-Fi setting, fast-charging, Firmware updates, and much more. The laptop comes with four different methods of powering its display including – Hybrid Mode, Hybrid-iGPU mode, Hybrid-Auto Mode, and dGPU mode. I found the most suitable ones to be dGPU mode for gaming and Hybrid-Auto mode for normal productivity tasks. Do note that a restart is required for changing the current display mode. Unlike the MUX switch, users can switch between different performance profiles on the fly using Fn + Q keys. 
Lenovo Legion 5i Pro (2022) Benchmarks Review
The main star of the show is the Intel 12th Gen Core i7-12700H 14-core CPU. Out of those, 6 are performance cores and 8 are efficiency cores. Both of them also have different boost clocks as well with P-cores having 4.70GHz and E-Cores having 3.50GHz of maximum clock speed. 
Starting off with the Cinebench R23 scores and the laptop scored insanely high numbers in the multicore score, beating out even the Intel 11th Gen Core i9 laptop CPU I tested last year. In terms of single core performance as well, the laptop scores nicely. The multicore score is tremendously helpful in productivity applications and CPU-intensive games. The overall performance of the laptop is also very good and snappy thanks to a super high PC Mark 10 score. In this test, the laptop scored tremendously high in Digital content creation and gaming.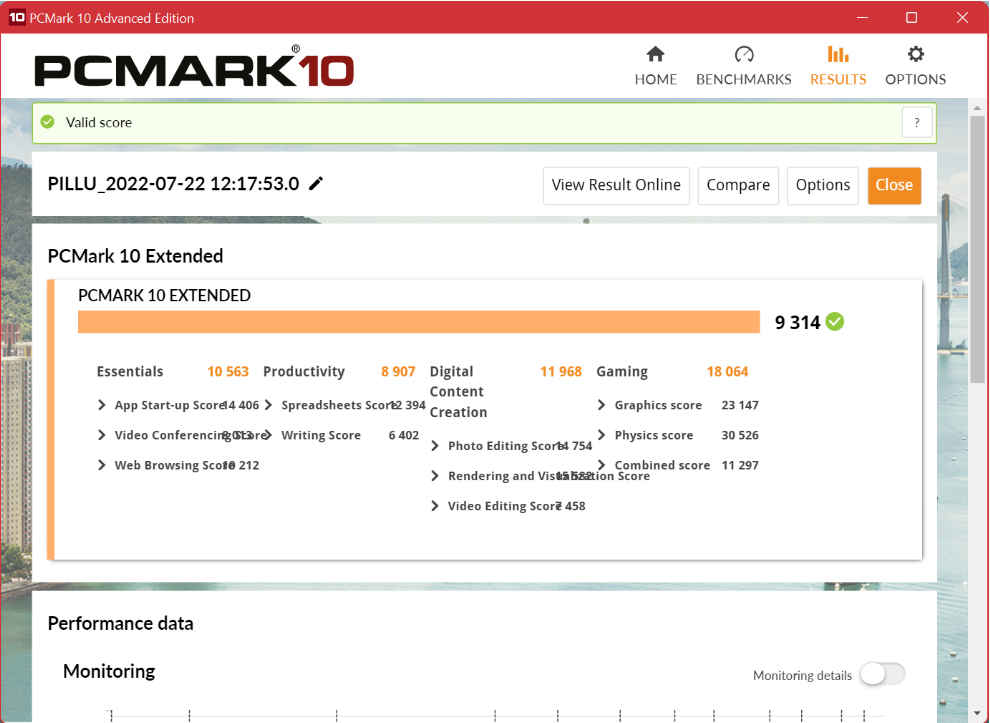 The surface temperature on the machine remains the same as last year. With the maximum temp reaching close to around 48-degree celsius while gaming. But the palm rest and the W, A, S, and D keys remain relatively cool. The fans also get noticeable loud and you'll hear them over the speakers at full volume. That's something not just limited to this particular unit but to all high-end gaming laptops in general.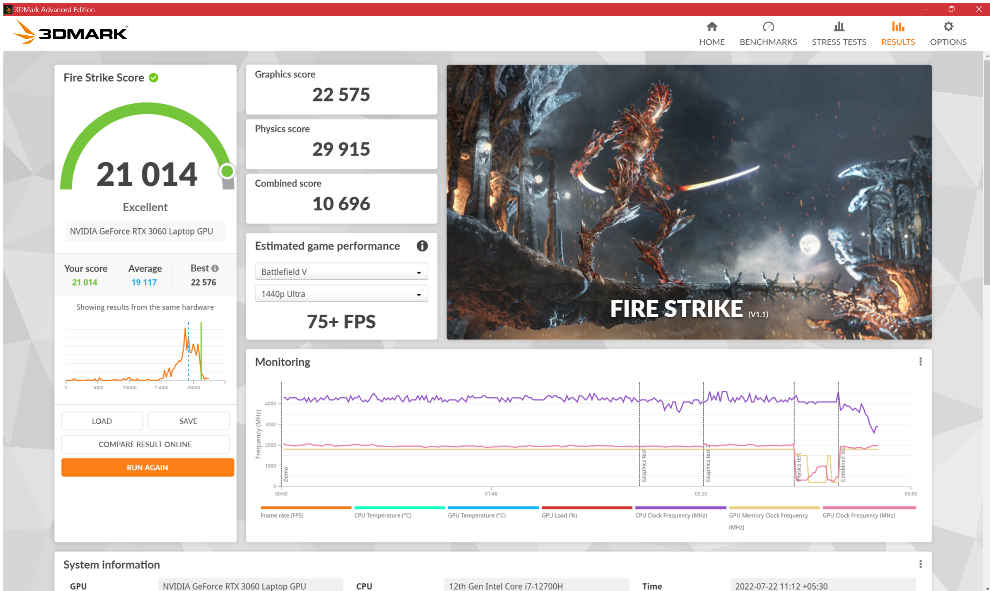 Lenovo Legion 5i Pro (2022) Display Performance Review
Lenovo carried over a lot of things to its newest Legion 5i Pro gaming laptop including its display. The laptop's 16-inch panel with a maximum resolution of 2560×1600 is a delight to look at it. The screen also has a 16:10 aspect ratio, as apparent from its resolution, which also makes it more immersive to look at.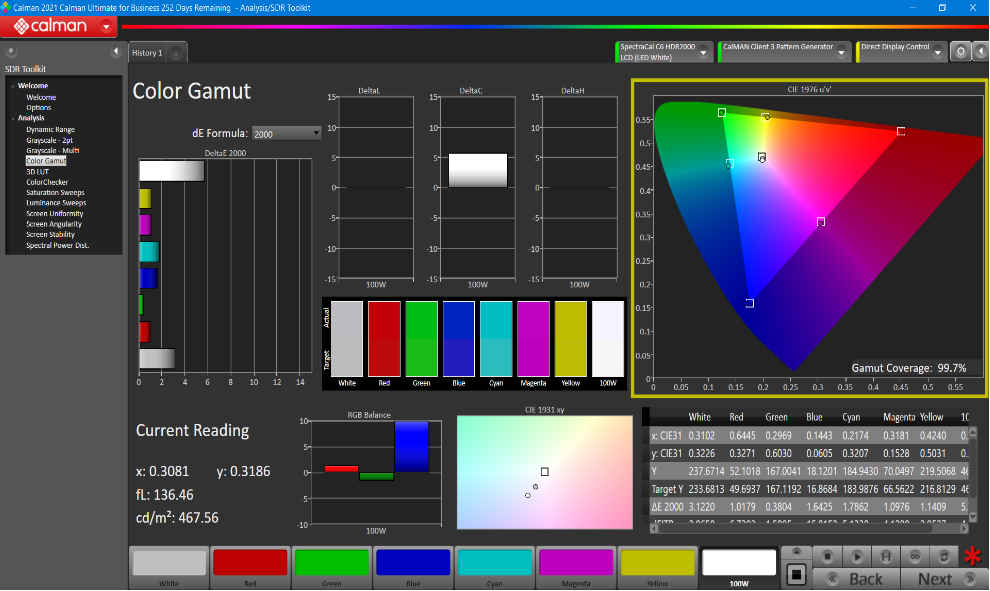 In terms of specs, I found that the screen has a maximum brightness of 476nits, which is very bright for a laptop. Moreover, the device also covers 99% of the sRGB colour spectrum as well. In terms of colour accuracy, the laptop is also fairly colour accurate with an average delta E of 1.7 and a maximum delta E of 5.7. Overall, the Legion 5i Pro's display is highly suitable for gaming as well as content creation.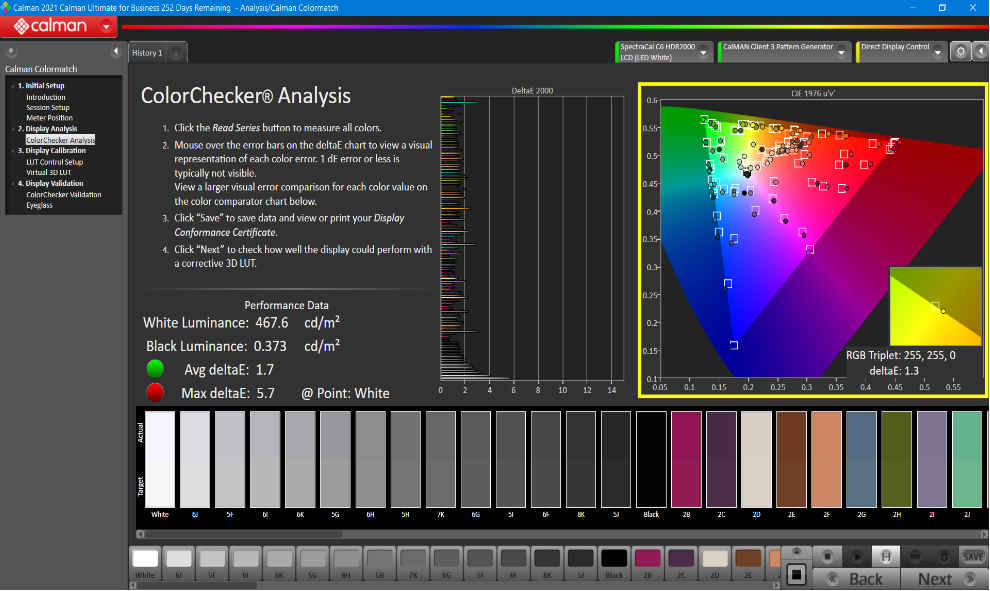 Lenovo Legion 5i Pro Gaming Performance Review
As I mentioned, the Lenovo Legion 5i is powered by an Intel 12th Gen Core i7-12700H 14-core CPU and an Nvidia RTX 3060 GPU with 6GB GDDR6 VRAM. Furthermore, the indicated maximum graphics power (TGP) of the GPU is 140W, which is up from last year's 130W for the same SKU. Moreover, we also have the faster 16GB DDR5 memory in place. So with all that said, here's how the laptop performs in our suite of games.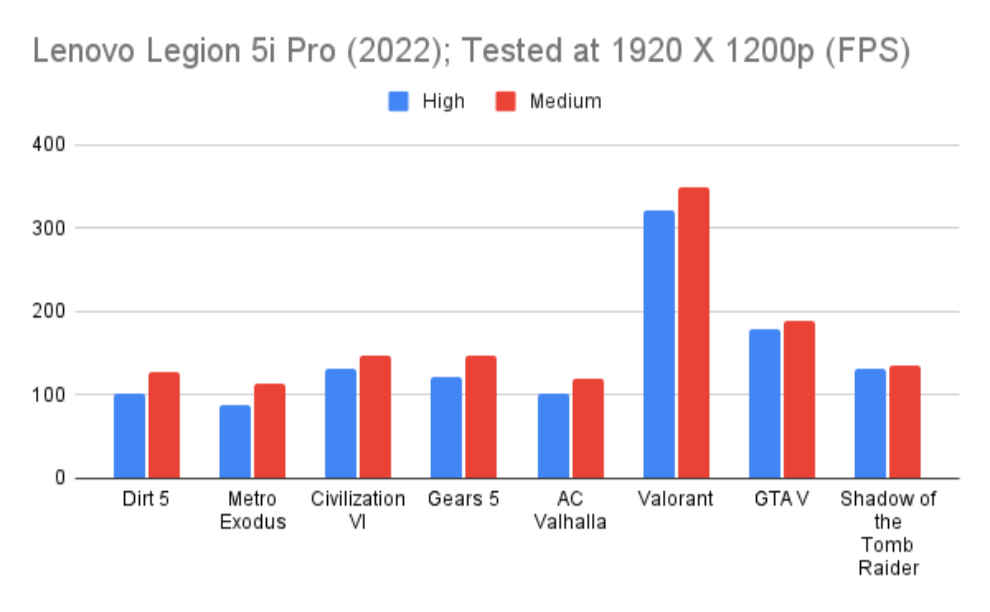 The Lenovo Legion 5i Pro scored amazingly well in games like Dirt 5, and Metro Exodus. However, its most notable performance gain was in Civilization VI, which is a CPU-intensive title. The Lenovo Legion 5i Pro scored close to 130FPS in high settings, which is really impressive. Most RTX 3060-powered laptops only manage a maximum of 120FPS in this game but with the help of Intel's latest 12th Gen Core i7 processor and an overclocked Nvidia GPU, Lenovo has knocked it out of the park in terms of performance.
Overall, the Lenovo Legion 5i proves itself to be an amazing premium gaming laptop and can easily run most titles at 1200p 100FPS or at 1600p 60-80FPS at a high graphical preset. 
Lenovo Legion 5i Pro Conclusion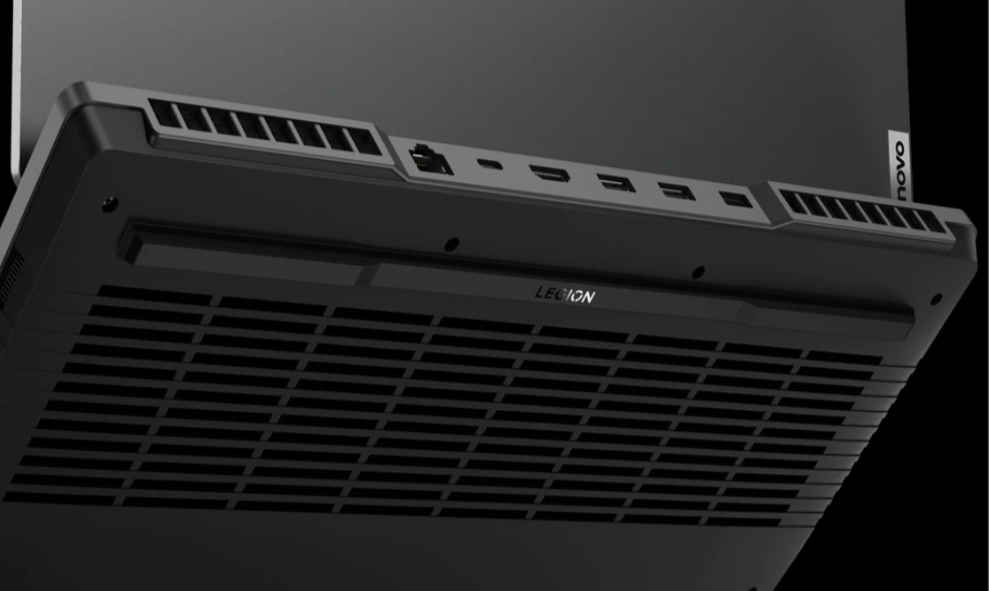 Not much has changed with the Lenovo Legion 5i Pro since the last time in terms of design but that's probably a good thing. Additionally, the performance boost it received thanks to the brand new Intel 12th Gen processor and an Nvidia RTX GPU are measurably impressive. If you're looking for a premium gaming laptop then the Lenovo Legion 5i Pro is likely the most well-built and feature-packed machine you can get your hands on. 
Tags:
Lenovo Legion 5i 2022 Review
Lenovo Legion 5i Intel 12th Gen Review
Lenovo Legion 5i Intel Core i7 review
Lenovo Legion 5i Intel Nvidia RTX 3060 Benchmarks Review