A ton of gaming laptops launch each year but only a few are so good that a become a tech reviewer's favourite. The Lenovo Legion 5 Pro is such a device that made me consider buying a retail unit for myself. It has the perfect blend of build quality, features, and performance, that only a few other OEMs can match. I have already reviewed the AMD-powered Lenovo Legion 5 Pro and now in this review, we're taking a look at the Intel-powered variant in all its glory.
Lenovo Legion 5i Pro Specs
Processor: Intel 11th Gen Core i7-11800H CPU featuring 8-cores, 16-threads, and a maximum boost clock of 4.60GHz with 35W default TDP.

Graphics Card: Nvidia GeForce RTX 3060 With 6GB GDDR6 VRAM 

Memory: 16GB DDR4 RAM

Storage: 1TB SSD 

Display: 16" QHD display in a 16:10 aspect ratio

Battery: 80Wh

Weight: 2.45kg 
Lenovo Legion 5i Performance And Benchmark Review
The Lenovo Legion 5i comes powered by an Intel 11th Gen Core i7-11800H Octa-Core CPU featuring a base clock of 2.30GHz and a maximum boost clock of 4.60GHz. The laptop also comes powered by an Nvidia RTX 3060 with 6GB GDDR6 VRAM and 130W TGP along with 16GB DDR4 memory and a 512GB SSD. In terms of performance, the processor performed just as expected. In terms of benchmarks, I started with the PC Mark 10 Extended, and the laptop scored 8462, which is slightly higher than the AMD variant. The laptop scored really high numbers in Digital Content Creation and Gaming workload, which is what this laptop will be mostly used for. 
In terms of raw CPU performance, the Intel chip beat the AMD version in terms of single-core performance but lost the upper hand in multi-core workload. Again, the numbers given here represent the top-level performance of Intel and AMD. Meaning despite the small performance difference between them, each of them can handle every possible workload.  
Moving on to GPU benchmarks and here we see no difference at all. The RTX 3060 in both laptops performs just as well. It scored decently high in all tests of FireStrike and TimeSpy. The SSD speed on the Intel-powered Lenovo Legion 5i Pro is also very impressive. The 1TB SSD scored 6158.44 MB/s of sequential read and 4903.86 MB/s write speed. 
Lenovo Legion 5i Pro Thermal Performance
In terms of surface thermal temperature, the laptop does get pretty hot. It is packing powerful components and I expected it to generate a lot of heat and it did. The CPU package temperature reached a maximum of 97 degrees celsius repeatedly but never more than that. The temps did die down from that point pretty quickly as well. Primarily because the chip's Tj Max is 100 degrees celsius and the system does everything in its power to keep the temperature low. The surface temperature of the laptop also reached around 49 degrees celsius when tested in a non-AC room during Indian summer conditions. So expect the temperature to be low when working in an AC room. 
Lenovo Legion 5i Pro Display Performance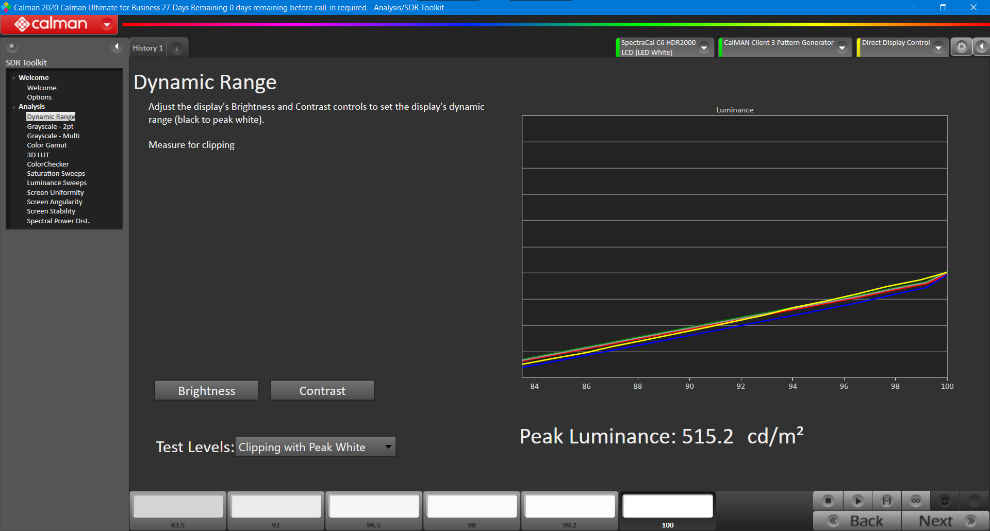 The Lenovo Legion 5i Pro comes with a 16-inch QHD display that supports a maximum resolution of 2560 x 1800 pixels and a maximum refresh rate of 165Hz. The display comes in a 16:10 aspect ratio and that extra height to it makes a huge difference to the level of immersion. Every piece of content looks more immersive when viewed on this display and the ultra-high brightness of around 500 nits also helps immensely in making the content on display appear really good. 
In terms of other important specs, 99.3% sRGB coverage and around 76% DCI-P3 coverage. However, the HDR content on this screen looks pretty good despite low DCI-P3 colour spectrum coverage. 
Lenovo Legion 5i Pro Gaming Performance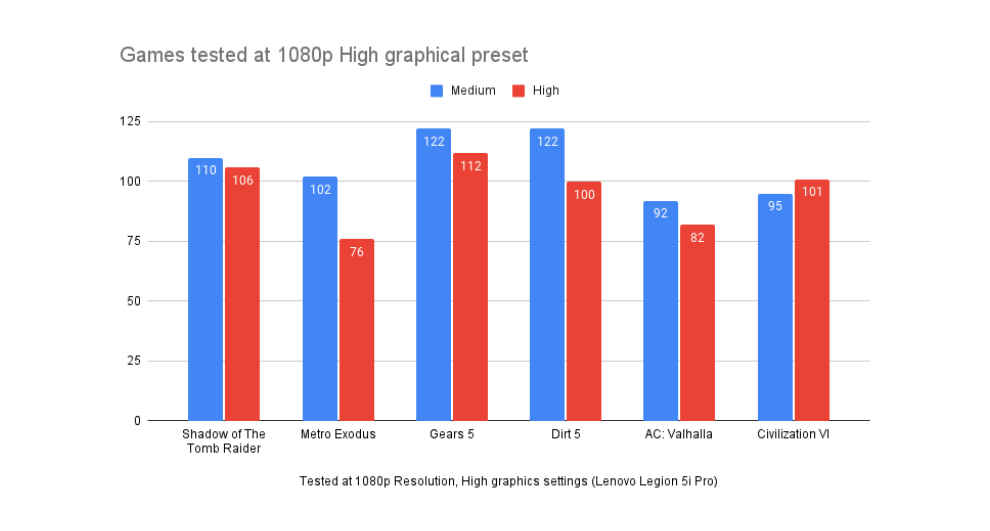 I tested a plethora of games to check the performance of the Lenovo Legion 5i Pro. Unlike several RTX 3050 and 3050 Ti GPUs are limited in terms of performance due to only 4GB GDDR6 VRAM. However, the GeForce RTX 3060 overcomes this problem thanks to the 6GB GDDR6 VRAM, enabling it to play games at a high resolution. So here's the performance that you can expect. 
The laptop can play every game close to 100 FPS at a medium setting in 1080p resolution. Even if you turn the graphics settings to high, every game easily delivers above 60 FPS.
Lenovo Legion 5i Verdict
The Lenovo Legion 5i is an amazing premium gaming device and it is as feature-packed as a gaming laptop can be. Mainly because its raw performance still hits the roadblock due to super high-temperature spikes. The same can be avoided to a certain extent if you plan to use the laptop in an AC room. However, the laptop still manages to deliver high performance in games and other productivity-related tasks, making it one of the best performers in its class. Overall, it is one of the most feature-packed laptops and if you manage to find one on a sale before its 12th gen version arrives, my suggestion would be to go for it. However, if you wish to save some bucks then I'd suggest going for the AMD version as well. Primarily because the performance gap between the two machines isn't too huge.