Samsung has created a new wave of excitement in the premium and portable laptop segment with the launch of the Galaxy Book2 Pro series. In India, the series includes 4 laptops – Galaxy Book2 Pro 360, Galaxy Book2 Pro, Galaxy Book2 360 and Galaxy Book Go. Among them, the Galaxy Book2 Pro is a power-packed beast that offers a premium experience and should appeal to a wide variety of users.
It is the slimmest laptop in its class and offers just about anything you need to perform and excel at the office or to keep yourself entertained at home – a vibrant display, powerful 12th gen Intel processor, long battery life, and cutting-edge connectivity options – all wrapped in a stunning design.
Now, let's talk about why you should seriously consider Galaxy Book2 Pro as your next laptop.
7 Irresistible Galaxy Book2 Pro Features 
Ultra-portable
Nowadays, consumers are increasingly leaning towards ultra-portable laptops and yet want options that don't compromise on raw performance power. The 13.3-inch display variant of the Galaxy Book2 Pro perfectly fits the bill and is one of the best slim laptops around. It measures just 11.2 mm in thickness and tips the scale at a mere 0.87 kg. As portable as it gets.
There's fingerprint-resistant Aluminum finishing on the casing that should ensure that it remains in pristine condition and withstands daily wear and tear. The certified military-grade durability (MIL-STD-810G) further assures that the Galaxy Book2 Pro will be able to take some accidental beating. 
Blazing fast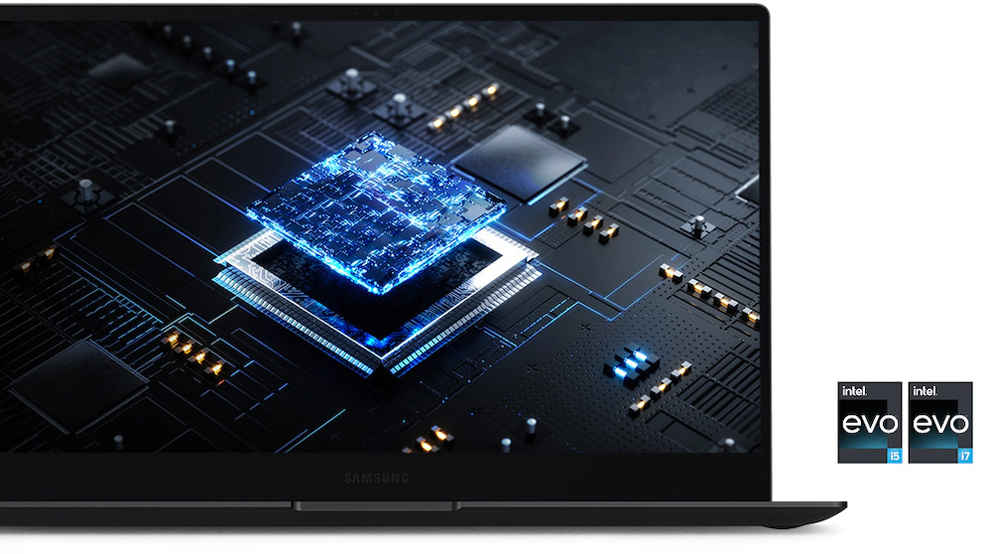 The Intel Evo-certified Galaxy Book2 Pro integrates two of the hottest advancements in PC space in the last few years – Intel 12th Gen Intel processors and LPDDR5 memory. 
The 12-core processor offers up to 1.7x multithread performance as compared to the last generation options. The fast LPDDR5 memory should help with seamless multitasking and demanding workloads like instant 8K video playback.
In addition, the notebook comes with 512GB of fast SSD storage, extendable up to 1TB external NVME SSD or up to 2TB of secondary microSD storage.
Captivating AMOLED screen
Another reason why the Galaxy Book2 Pro should be an absolute delight for work and play is its bright and vibrant AMOLED display. Characterized with awesome contrast and deep blacks, the display has 120% Color Volume (DCI-P3) and a sharp FHD resolution. 
The ecosystem advantage

A distinct advantage of the Galaxy Book2 Pro is its seamless integration with Samsung's Galaxy ecosystem of products and services. The consistency in the visual design reduces the cognitive effort involved for consumers while switching from one device to another.
For instance, you could start taking notes on your Galaxy phone, abruptly switch to your Galaxy Book2 Pro, and pick up right from where you left. Users can quickly move a video shot on their phone to the laptop using Quick Share or securely share important documents between their laptop and phone using Private Share. 
That's not all, you could convert a Galaxy Tablet into an extended display using the Second Screen app, seamlessly drag and drop files between your Tab and Galaxy book, and control both using the same keyboard and mouse.
Cutting-edge connectivity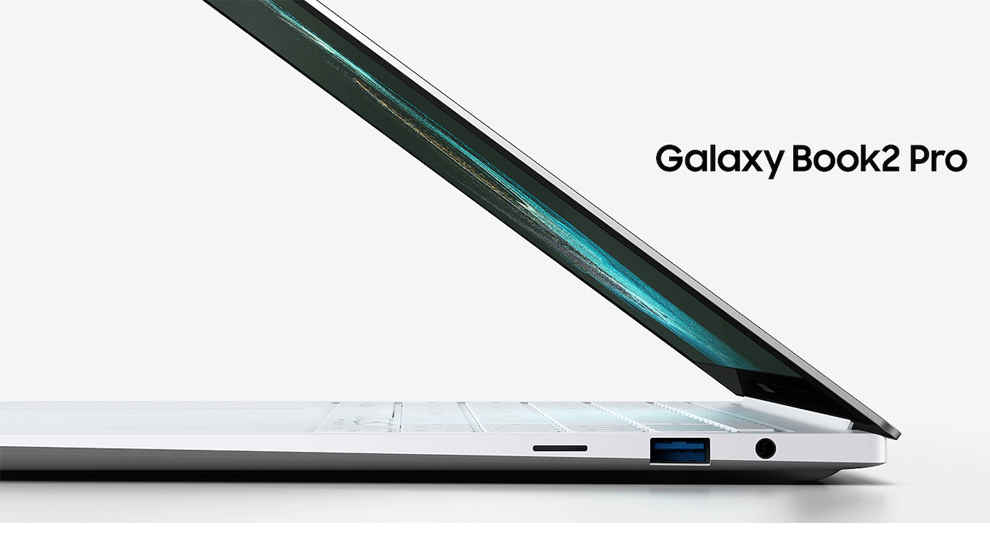 The Galaxy Book2 Pro comes with a full set of ports that can be used to connect a variety of peripherals and devices. The USB-C port with Thunderbolt 4 connectivity can deliver up to 40Gbps transfer speed. Samsung has further managed to add two additional USB-C ports, a MicroSD card slot, and an HDMI port, at such a slim form factor. 
What's more, it supports superfast wireless connectivity options including Bluetooth 5.2 and the latest Wi-Fi 6E that adds access to the additional 6GHz band, resulting in faster internet speeds and reduced latency. 
Powerful battery
With the Galaxy Book2 Pro, you won't have to ever deal with battery anxiety. The laptop is rated to last for a stunning 21 hours on a full charge. Moreover, with the bundled 65W charger, you can quickly top up the battery to 40 percent in just 30 minutes. 
The universal fast charger bundled with the notebook can also be used to fast charge other Galaxy devices like Galaxy Buds, Galaxy smartphones, and Galaxy tablets, so users won't have to carry separate adapters for different gadgets when on the move.
Effortlessly access your phone on your PC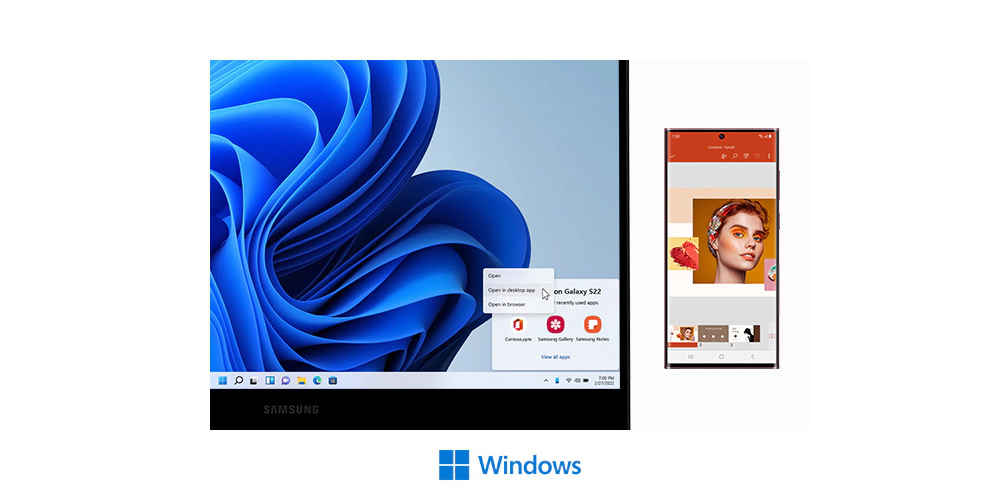 Here's an important fact. Galaxy devices seamlessly blend with the Windows OS. Using the Link to Windows app on your Samsung phone and Your Phone app on your Galaxy Book2 Pro, you can effortlessly pair your phone to your PC.
On their Galaxy Book2 Pro laptop, users can check incoming messages from their phones, attend calls or directly respond to incoming notifications. There are also options to access phone apps on the laptop, mirror the phone screen, use universal copy-paste or even directly drag and drop files between phone and laptop.
Apart from the highlights that we have talked about, Samsung has paid due attention to nuances that matter. There is a lot more to look forward to including a detailed FHD video calling, powerful audio, a comfortable keyboard, a large touchpad, and a diligent focus on security and privacy. 
Galaxy Book2 Pro: Fully loaded with features
Here's how the Samsung Galaxy Book2 Pro stacks up against the competition: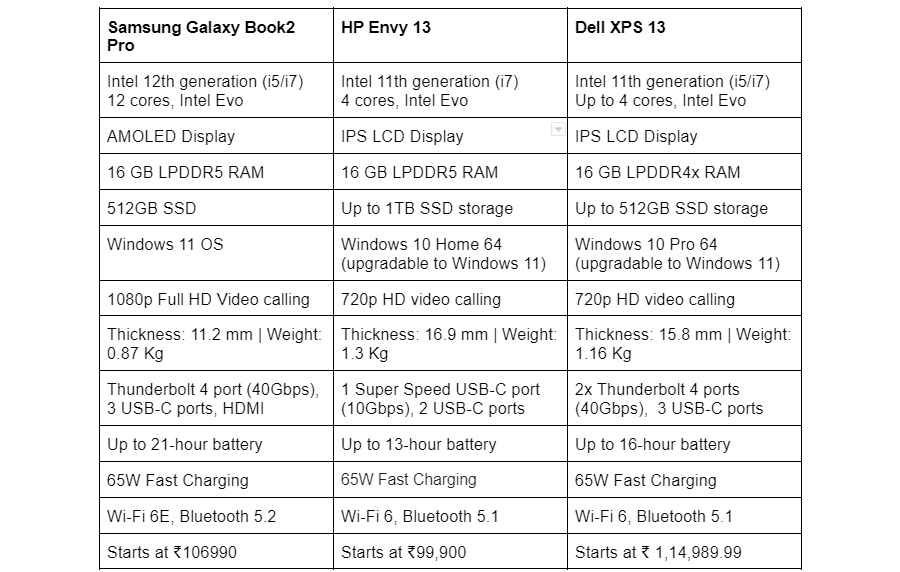 Effortlessly Awesome
A good laptop makes your work and entertainment more comfortable and fascinating. The Galaxy Book2 Pro is one such enabler that successfully minimizes the friction between a user and his objective and gives an effortless user experience. 
You can buy the 13.3-inch variant of the Galaxy Book2 Pro with 12th gen Core i5 and Core i7 processors for INR 106, 990, and INR 114,990, respectively. The 15.6-inch model with the 12th Gen Core i7 processor has been priced at INR 124,990 in India. 
Samsung bundles Microsoft Office Home & Student 2021 with the notebook. There are additional discounts that further sweeten the deal. You can avail of INR 5000 cashback and up to 12-month no-cost EMI using bank offers. Customers will also have the option to bundle the Galaxy Buds 2 for just INR 999 only. Samsung is also offering an extra 5% discount for students. 
Check out more Galaxy Book2Pro features and offers here.
[Brand Story]